April 29, 2013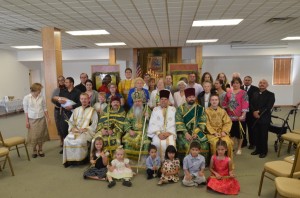 For the first time since his election as Primate of the Orthodox Church in America in November 2012, His Beatitude, Metropolitan Tikhon visited an Orthodox Christian military community in the US.
Metropolitan Tikhon was welcomed at Fort Bliss, TX—the premier US Army installation and the largest mobilization and demobilization site—by CH (COL) Peter A. Baktis, Senior Chaplain, on Friday, April 26, 2013. He visited the Garrison Commander and was briefed on various operations, procedures and processes involving soldiers, airmen, sailors, marines and members of the Coast Guard and the Brigade Modernization Command.
On Saturday, April 27, Metropolitan Tikhon celebrated the Divine Liturgy at Chapel #3. That evening, he presided at Great Vespers. On Sunday morning—Palm Sunday—he celebrated the Divine Liturgy before returning to New York.
Located in El Paso, TX, Fort Bliss is home to the 1st Armored Division. "We are a FORSCOM installation comprised of other commands: MEDCOM, JTF-NORTH, TRADOC, USAR, and other elements," added Father Baktis.
Source: OCA