August 5, 2013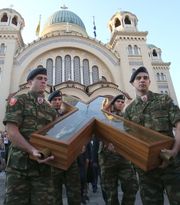 Moscow, August 5, Interfax – The Cross of the Apostle St. Andrew the First Called, a relic revered by Christians throughout the world, has been seen by more than a million people in Russia, a spokesman for the Foundation of St. Andrew the First Called, the organizer of the event, told Interfax-Religion on Monday.
"People had to stand in lines for 30 minutes to nine hours, depending on where the relic was displayed and whether it was day or night. Some churches remained opened for visitors round the clock," the spokesman said.
The cross on which the apostle was crucified arrived from the Greek city of Patras with the blessing of Patriarch Kirill of Moscow and All Russia, and Archbishop Ieronymos of Athens and all Greece.
The organizers thanked the local governments for the measures taken to avoid crowding, disorder and accidents.
The Cross arrived in St. Petersburg, Russia's naval stronghold, on July 11. Since the city was founded on the banks of the Neva River St. Andrew has been one of its patron saints. St. Andrew was Apostle Peter's brother and the city bears St. Peter's name. A legend goes that Tsar Peter the Great laid a golden shrine with the apostle's relics in the foundation of the Peter and Paul Fortress. St. Andrew's Cross arrived in St. Petersburg the year the 310th anniversary of the Russian Fleet and of St. Petersburg is observed.
"The Cross was then moved to Moscow, Kiev and Minsk, the capital cities of the three states where most worshipers of the Russian Orthodox Church live, whose spiritual and cultural life carries and develops the legacy of Holy Rus in its numerous manifestations," the spokesman said.
The display of the St. Andrew's Cross "demonstrates our compatriots' genuine attitude toward the Orthodox religion and to our multiethnic traditions," the organizers said.
Source: Interfax-Religion