Moscow, June 28, 2013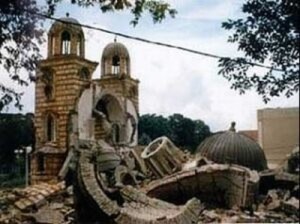 A prayer meeting in support of the Russian-Serbian unity and the integrity of Serbia took place on June 30, at 13.00 on Suvorovskaya square in Moscow, reports Sedmitza.ru.
Specifically, members of the Orthodox Russian-Serbian Brotherhood and the Orthodox movement "Holy Rus" gathered at the event, reported the leader of "Holy Rus" Ivan Otrakovsky.
The prayer gathering was organized as preparation for the opening of the Russian Orthodox cultural center in Kosovo and Metochia as well as preparation for the Russian-Serbian Cross procession scheduled for September 2013 and dedicated to the 900th anniversary of the Nemanjic dynasty. Its route will run over the north of Kosovo, Metochia, and enclaves.
"We are betraying ourselves by regarding with indifference the genocide of Serbs by "Humane" Europeans and Americans "bringing justice", enforcing "freedom" on the whole world; the occupation, assimilation and seizure by Albanians of the native Serbian lands, desecration of Orthodox shrines, and the spread of heathen temples on the Serbian land," said I. Otrakovsky.
He noted that Russia remembers that so-called "freedom" in NATO bombs with "Happy Easter" messages thrown on the heads of civilian residents of Belgrad in 1999″.
"We can see it even now in the form of blackmail, in the demand that they renounce their ancient lands, soaked with the blood of many generations of Serbs in exchange for the dubious pleasure of being in the «brotherly» embraces» of the EU. Allowing the genocide of Serbs, we are preparing ground for ourselves. I feel certain that Serbia is a training ground on which methods are being tested for the future dismemberment of Russia, the destruction of the Orthodox faith in our native land, and of the Russian people as a free nation are being worked out," said the spokesman.
Source: Pravoslavie.ru