Source: www.antiochian.org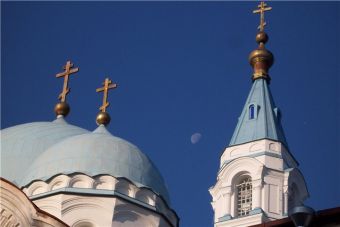 I recently visited an Orthodox Church for the first time. There's nothing unusual about that, many people visit Orthodox Churches, except that I have been an Orthodox priest for over two decades. Let me explain. I recently went on vacation to visit some family in a mid-size city in another state. My family and I had plans to attend church with my relative and her children (a Protestant, evangelical church) but late on Saturday evening, problems developed and they were unable to go to church the next morning. Facing the prospect of staying home on a Sunday morning, my wife and I decided to locate an Orthodox Church in the area. With the help of the internet, we managed to find an Orthodox parish a reasonable drive away, downloaded directions from the parish's excellent website and off we went on Sunday morning. With such last minute plans I had no cassock or rason to wear and not even time to try to reach the local priest by telephone. I decided to simply sit with my family and the congregation during the Divine Liturgy.
We found the Orthodox Church in the next city fairly easily but it was a rather run-down looking former protestant Church in a less-than-desirable neighborhood. While there were many cars in the parking lot, the front door was locked as was a side door. After a few minutes of trying to find our way inside, we managed to find the door and were surprised to find the congregation already singing the Creed during the Divine Liturgy. While the parish's website announced services at 10 a.m., we arrived only to discover that the Liturgy actually began at 9:00 during the summer.
The Divine Liturgy was quite wonderful. The parish choir was quite good singing mostly in English with a few hymns in the parish's language, the 100+ people present were prayerful and a good mix of younger and older people. The priest served reverently and was obviously a very caring pastor. In all, I felt that if I were looking for a parish to join, I could be very happy in what seemed like a wonderful parish.
Then came the dismissal and the distribution of the Antidoron. Shortly before this, my wife felt light-headed and left to go find a restroom. My young daughter and I received the Antidoron from the priest but he said nothing to us. We passed dozens of people in the vestibule of the church and no one said anything to us. We finally found my wife sitting in a chair outside of the restroom and found she had a similar experience: dozens of people had passed her and no one said a word. While I could smell the aroma of coffee emanating from somewhere, no one welcomed us to join them. As we were leaving, my seven-year-old daughter summed it up: Dad it's like we were invisible. Why didn't anybody talk to us?
Was our experience unusual? My unscientific polling of several friends and relatives uncovered similar stories. Experiences of people being warmly welcomed in Orthodox Churches is not typical.
Would we have been warmly welcomed if I was appropriately dressed in cassock and rason? Several years ago I was again a visitor in another city and went to the nearest Orthodox Church for the Divine Liturgy, this time dressed properly as an Orthodox priest. Here I had a chance to speak to the priest before the Liturgy began and he greeted us warmly and welcomed us to the parish. But once the Liturgy was over the welcome was the same. No one was mean or nasty, they just ignored us. Again I could smell the aroma of coffee coming from somewhere but we weren't quite sure where to go and no one invited us.
YOU HAVE A MISSION!
After sharing our experience with my Evangelical relatives, they wondered if the reason why the Orthodox faithful are so neglectful of visitors is because we are not concerned for evangelism. Certainly this is one reason for the neglect of visitors: we have no burning passion or desire to share the Gospel, but this is changing. There is a growing fire burning in the Orthodox Churches of America to engage in mission. We are rediscovering, in the words of Archbishop Anastasios of Albania, that mission is in the very DNA of the Church. Parishes large and small are supporting a growing body of Orthodox missionaries serving around the world. But with these efforts an idea has crept in that mission work is for the professionals, that is, those theologically trained and specially prepared for mission work. Have you ever seen those car commercials with a sports car racing through streets and a disclaimer at the bottom: Professional driver, do not attempt this yourself? We have forgotten that Christ's command to Go, therefore, and teach all nations … has been given to all Christians and not just the clerical professionals! It was a lay woman, St. Nina, who became the Enlightener of Georgia and is honored with the title Equal-to-the-Apostles. Before St. Herman and his fellow missionaries landed on the shores of Alaska, it was Russian fur traders who laid important groundwork by baptizing some of the native people and sharing their Orthodox Faith.
Every Orthodox Christian is called to share in this work of missions and one of the most effective, yet simple forms of missionary work is known as relational evangelism. If you know how to be a friend to another person, you can do the work of evangelism. Relational evangelism is simply the sharing of our Faith through our personal relationships with other people. It involves being a friend first, showing an interest in another person, listening, caring for another person and only then sharing our Orthodox Faith as a natural extension of our connection with that person. Relational evangelism is that which takes place around the kitchen table or over a cup of coffee. Relational evangelism often begins once the Divine Liturgy is over and everyone goes to the coffee social. St. John Chrysostom wrote of the liturgy after the liturgy celebrated not on an altar of stone or wood but on the altar of flesh or blood which is our neighbor. While we may think that evangelism involves preaching on a street corner to strangers, there is only one example in the book of Acts of St. Paul preaching in a town square (in Athens) but there are numerous examples of St. Paul becoming part of a household (such as that of Jason in Acts 17), and sharing the Faith through these extensive networks of family and friends. Relational evangelism is not preaching, it is sharing with a friend. Relational evangelism does not imply that you have the answers to all the theological questions that visitors to our churches have. Relational evangelism does imply that you are struggling to live the Orthodox Faith and can somewhat model an Orthodox lifestyle despite your obvious weaknesses and sins.
God is sending us people who are seeking the truth of Orthodox Christianity from the theological and moral confusion of much of the Christian world. We must cooperate with the Holy Spirit by practicing this most simple form of evangelism. Can visitors find our churches? Can they find the correct time of services and easily find the door to get in? Will they find people there who are interested in them, who will welcome them, who will listen to them, who will get to know them? Like the theme from the old television show Cheers, we all want to go to a place where everybody knows your name.
Fr. Edward Pehanich is pastor of St. Nicholas Carpatho-Russian Church, Monongahela, PA
This article originally appeared in THE WORD Vol. 49 No. 10, December 2005