October 30, 2013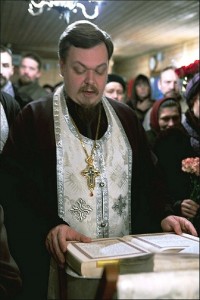 MOSCOW — Russia's Orthodox Church this week warned of the spiritual dangers of Halloween, as authorities in Siberia banned the holiday for encouraging "extremist" tendencies in young people.
"Halloween is a serious danger. When you play with dark forces, they always win," said Russian Orthodox Church spokesman Vsevolod Chaplin, adding that the consequences of marking the ancient holiday could be "illnesses, suffering and a feeling of emptiness."
His comments came as the Ministry of Education in Siberia's Omsk region placed a blanket ban on Halloween celebrations in schools, saying the holiday promotes an "extremist mood" among teenagers. The ministry also said Halloween is "propaganda of the cult of death."
Russians began — unofficially — celebrating Halloween after the collapse of the Soviet Union, as once taboo Western culture flooded into the country. But the authorities here remain suspicious of Western ideas and traditions. Regional authorities previously banned celebrations of Valentine's Day.
Both holidays are, however, increasingly popular with ordinary Russians, and Halloween-themed parties are common in big cities like Moscow.
The Halloween warnings come as President Vladimir Putin increasingly has turned toward Russia's conservative masses for support in response to last year's protests that challenged his long rule.
"Many countries of the Euro-Atlantic alliance have denied their roots, including Christian values," Mr. Putin said earlier this month in a keynote speech.
"Families with many children are placed on the same level as same-sex partnerships, and belief in God on the same level as a belief in Satan," he said.
Halloween celebrations also have proven controversial in other former Soviet states.
Police in Tajikistan detained two dozen participants in a Halloween celebration earlier this week, in part of a crackdown on the holiday, the BBC's Russian language service reported.
Detainees were questioned by police and lectured on spiritual and traditional values before being released, the BBC reported.
Source: Washington Times