July 18, 2013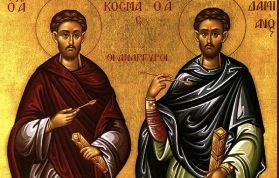 The Orthodox Christian Association of Medicine, Psychology and Religion will hold its annual conference at Saint Katherine Greek Orthodox Church here November 1-2, 2013.
The theme—"The Clinical and Pastoral Care of the Aging Patient"—will be developed from the pastoral, medical and psychological perspectives in a series of presentations delivered by Dr. Helen C. Kales, Associate Professor of Psychiatry and Director of Geriatric Psychiatry, University of Michigan; Dr. Brenda K. O'Reilly, Clinical Psychologist and Board Certified Professional Christian Counselor in private practice, Fort Collins, CO; and Priest Anthony Ugolnik, Emeritus Professor of Ethics and Humanities, Franklin and Marshall College, Lancaster, PA and pastor of Holy Ghost Ukrainian Orthodox Church, Coatesville, PA.
Delivering the keynote address will be His Grace, Bishop John [Abdalah] of Worcester and New England, Antiochian Orthodox Christian Archdiocese of North America. His opening night lecture is free and open to the public.
For additional information please contact Dr. John Demakis atdemakis9931@gmail.com.  Participants may register on-line.
Source: OCA