Russian commentators said that society is "childish" when people spend hours in the freezing cold to kiss a "15th century fake," i.e. the relics of the gifts brought to the Messiah. For the patriarch, to those who shake the faith, the answer "must be a deeper belief in the truth of the word of God".
Moscow (AsiaNews) – Orthodox Epiphany, which fell on 19 January in Russia, gave Patriarch Kirill of Moscow an opportunity to defend from media attacks and public criticism the many pilgrims who in recent days came to the Cathedral of Christ the Saviour to worship the 'gifts of the Magi'.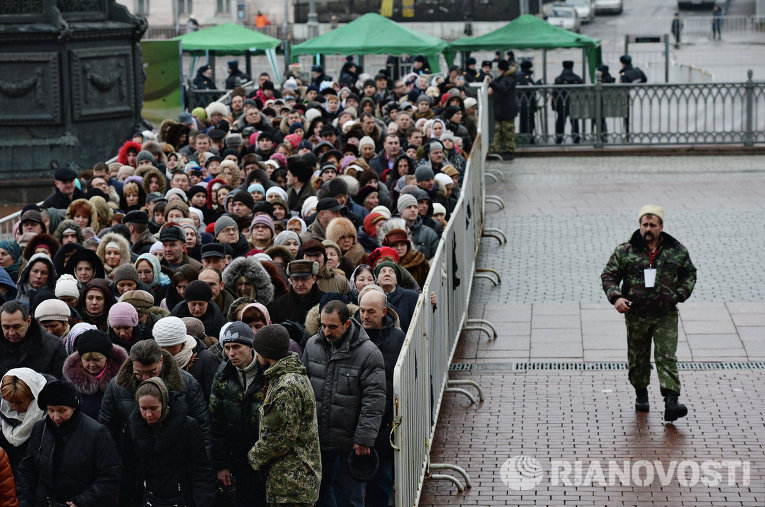 After the liturgy, the primate addressed the gathering, noting that the Christian response to what shakes the faith "must be a deeper belief in the truth of the word of God and in the Christian tradition."
"Sorrow fills my heart when people who call themselves Orthodox compare to idolaters their brothers in the faith who stood for many hours in order to worship the relics," said Kirill, the Interfax news agency reported.
According to Moscow authorities, more than 400,000 pilgrims visited the cathedral in Moscow between 6 to 13 January to venerate the 'gifts of the Magi to the Messiah'.
The 'gifts' arrived in Russia from Mount Athos, and are currently held in the Saint Paul Monastery, which was founded by St Paul of Xeropotamou in honour of the apostle.
For many Russian commentators, for whom the 'gifts' are a "15th century fake," the fact that thousands of people lined up for 9 to 12 hours in the cold just to kiss the relics shows that society is "childish and confused."
After Moscow, the 'gifts of the Magi' were displayed first in the Monastery of the Resurrection in St Petersburg (14 to 17 January), then in the House of Mercy in Minsk, capital of Belarus, where they will remain until 24 January, before ending their pilgrimage in Monastery of the Caves in Kiev (30 January).
The Russian Orthodox Church follows the Julian calendar, which has a 13-day delay over the Gregorian calendar in use by the Catholic Church.
Like the day before Christmas, the eve of Epiphany is marked by fasting "until the appearance of the first star."
The Orthodox Church commemorates the martyrdom of John the Baptist, who baptised Jesus in the Jordan River, on 19 January, Kreshenie (baptism in Russian) or Feast Day of the Lord's Baptism. At this moment, Theophany occurs, marking the moment when Christ is revealed as the Son within the Trinity, along with the Voice of the Father and the Dove of the Holy Spirit.
The celebration features the traditional bath in icy water. Police sources said that 165,000 people immersed themselves in Moscow alone. Emergency Situations Ministry officials report one death in the Yakutia region where temperatures dipped to minus 30°. (N.A.)
Source: AsiaNews.it