The following is a letter extracted from an on-going correspondence between an Orthodox monk and a modern philosopher concerning the relationship between science and faith.

Dear Madam,
In order to address Russell I feel I need to discuss a little the knowledge of God. First of all I consider the ontological argument to be invalid. I also strongly disagree with the Catholic dogma that God can be known by reason. The Catholic Church is changing their faith by this dogma. Saint Basil laid the foundation for our understanding of the knowledge of God and its limits by putting God in his essence forever beyond accessibility, while it is in God's energies (actions) that creation and God meet. To say that we can prove that God exists is to say that we know God. Saint Basil even adds that he does not know himself (what he is in essence).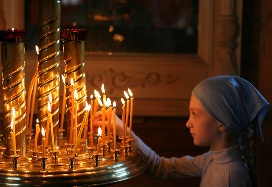 Ken Wilber in Quantum Questions explained the conflicts arising between science and religion as a misunderstanding between science and religion as methods to knowledge, as well as confusion of the domains of knowledge which he described in his Great Chain of Being. Physics is a language of symbols, while mysticism is direct knowledge. All of the great physicists in his anthology came to the crisis where physics was confronted with its own limits, such as in Heisenburg's Uncertainty Principle, and they had to change their method to go further. Our paradigm of space and time is based on the language of symbols used in physics. Alain Aspect's experiment which showed a connection between electrons regardless of distance is wearing away on our paradigm of space and time. The language of physics can no longer make a model of how these electrons are connected even though it can perceive their connection. This is not the only description of this conflict that I found.
Archbishop Lazar Puhalo has in his book The Evidence of Things Not Seen presents a different view of this crisis. For him it is a conflict of models of reality, not the meaning of reality, or objective reality. We gather facts through scientific observation and then make a model of what we observe. Our model is dependent on our language. The ancient model for the universe was that the sun and stars rotated around the earth, but with more facts that model changed. The meaning of reality is something that requires direct knowledge, where the observing subject and object become one. The Catholic Church as well as the Protestants have put too much emphasis on their models of reality taken from scripture and resist alternative models of reality offered by science. The Orthodox
Church never had such conflicts with science because it focused on the meaning of reality given in biblical narratives. For Puhalo, the answer was for religion to be open to changes in its models of reality since science is at a new Axial Period and we can expect many new facts to be discovered.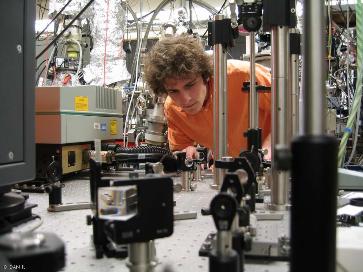 I am leaning more toward Puhalo's thesis then Wilber's Great Chain of Being. Richard Dawkins demands evidence of one's faith, specifically he wants observable fact. Wilber with his Spiritual Domain of thought gives the spiritual sphere an observable element through personal religious experience, since experience is still an observable fact by someone or anyone in the same position, and so Puhalo's description of religion can fit Dawkins' criteria. Puhalo puts faith beyond observation, namely that faith is how we can come directly to reality through revelation, which is strikingly similar to the mysticism shared by the authors in Quantum Questions. Puhalo wrote that we cannot come to the meaning of reality through facts, and that we try to give facts meaning by making a model of reality which fits the facts. When our model no longer fits the facts then we need to change it. Direct apprehension of reality can not be made through observing facts.
I suppose Wilber would say that Dawkins wants to inappropriately apply scientific method from one domain of thought to another, and Puhalo would say that Dawkins is trapped in making models for reality, including faith.
Francis Collins in his book The Language of God has abundant access to scientific facts but then creates a model for these facts that includes God as both creator and a limited mover. Any religion that bases itself on science is going to become obsolete, and Collins is definitely setting himself up to fall in this way. If we look at Collins ideas within the Great Chain of Being, then Collins is trying to penetrate the Spiritual Domain by examining the Physical Domain, and produce rational evidence of God. Collins at least corresponds with the authors in Quantum Questions by maintaining that science can not disprove God's existence.
Priest Paul Koroluk in his article "As If" and "I believe": Models for the Seen, and for the Unseeable defines models of reality as using the words "as if", and the meaning of reality coming from the words "I believe". Science gathers facts and then makes a model "as if" that model was the reality. "I believe" is the basis on which we can make models of what is beyond reason. To say "I know" means that the object of our knowledge can be measured. The objective scientist should acknowledge that there is no reason to deny faith. I would add here that both Dawkins and Collins clash namely on the battlefield of reason to support or reject faith. Koroluk addresses science and gives it an interesting criteria to identifying proper models of reality used by the Church (dogma): "However, as divine inspiration is beyond measurement, science can only state that this model is consistent, useful, and cannot be disproved."
Religion is often valued by authors like Einstein to the degree it is useful to society. For Einstein, organized religion meant one group of people made rules the rest of the people must follow, and he saw that as a form of oppression. Dawkins viewed believing dogma or doctrine as irrationally accepting a myth, and his view is more or less shared by the authors in Quantum Questions. If we use Puhalo's thesis, then I think we can blame the Catholic Church as the sole source of this problem. The Catholic Church, and the Protestants after them, tried to propagate their models of reality for known facts as namely eternal truth (dogma), and the Protestants at least still continue this by using scripture as a scientific textbook. The book of Genesis is often compared to what we know about biology and cosmology. If Genesis is a book of facts about the origin of life, then it is obsolete through new discoveries about the origin of life, and we have religion based on science again. If Genesis is a narrative that only gives us the meaning the origins of life has for us, as Puhalo maintains, then there is no conflict between the meaning of Genesis and our current understanding of the origins of life. I would agree that the book of Genesis specifically (not scripture as a whole) is a book of meaning and not fact. Though this does not imply that the reality of what Genesis describes is fiction.
I will later examine what Bertrand Russell wrote in light of the above in a final email, but I do not know when I will be able to write that one since I still have some reading to do.
Sincerely,
…