Dear and Highly Esteemed Sir Paul McCartney,
I am a Russian Orthodox priest, a typical representative of the generation of the 70-s. Being born in the country behind the "iron curtain", we nevertheless were brought up with the great music of the Beatles.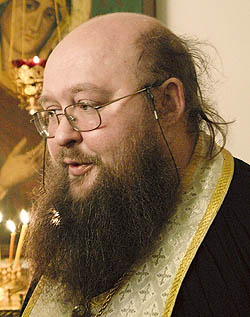 Dear Sir Paul,
You cannot even imagine how the art of your friends and personally yours was important to us. The Beatles' songs learned us to think about the meaning of life, good and evil, even about God and eternity, taught us to understand and love freedom in all its manifestations. The absence of freedom was extremely felt in that totalitarian country, in which we were doomed to be born and live. The "iron curtain" separated us not only from our mates in the free world where they could create and live according to their desires. This deadly "curtain" separated hearts in our country as well. Moreover it tried to hide from us the Havens and the God.
In our childhood we were taught about the "class struggle". We had to be victims for the sake of mythical "bright future". We were brought up in the atmosphere of hatred of the whole world. Could you imagine, dear Sir Paul, what your songs which called for peace, freedom and love meant for us in that heartless and Godless country ("sovok")?
But freedom of a person praised by the Beatles was achieved not at the expense of other people: it never derogated the freedom of another person. And we have always wanted to be free just in this sense. I am free but my freedom does not stand in the way of other people.
Millions of Russian people set for guitar all songs of Beatles which penetrated to us through the "iron curtain" and "Berlin wall". Your never-dying melodies could be heard in every flat and courtyard; not a single celebration party went without it. Not Lenin and Marx taught our generation the meaning of life, but four honest guys from far and almost legendary English Liverpool.
But I am thankful to you mostly for having taught me to think and strive for the real freedom; your music and poetry eventually in a mysterious way helped me to understand Christ. Believe me, Sir Paul, I am not alone. When I became priest and monk of the Russian Orthodox Church, I met thousands of people who admit that they had come to Orthodoxy because of your songs.
Dear Sir Paul,
Some months ago Russia witnessed an act of evil. We, Russian believers, perceive this event in this way. In the church, built in honor of freeing Russia from Napoleon's invasion, in the church which for us is the greatest national shrine, four young girls began to dance right before the altar swearing, singing sacrilegious songs and offences to Patriarch, who is for all of us the spiritual leader and honourable man. All this Bacchanalia was filmed and blown the world. Needless to say what a shock and spit in the soul we, Russian orthodox religious people, had experienced.
Several weeks before this event members of Pussy Riot were trying to do something like this in another Moscow church. They were politely asked out without giving this public utterance. They conducted a similar action in the Red Square, just exactly where you, dear Sir Paul, gave your concert. And again, sacrilege and twisting were left without any consequences. At last, before the "action" in the Church of Christ the Savior members of Pussy Riot cropped up and performed an act of group sex with their partners in the State Zoo Museum in the broad daylight and in the presence of visitors including children. Video and photos of this effrontery were also made public in Internet and shown over the central Russian TV channels.
Sir Paul, I would like to ask you whether you consider these actions normal? What could happen in future if these so called punk rock performers who in reality have nothing to do either with punk movement or with rock music were not stopped? Of course, times are changing and in the "civilized world" this is probably considered normal, but I cannot imagine that musicians of Beatles group even with their nonconformity would allow something alike in the presence of children in a museum. There exist some norms of moral, decency, ethic, good and evil, not necessarily connected with this or that religion, which nobody can neglect. Because if the people overstep this limits, the will lose the character of Homo Sapiens and become the animal.
Dear Sir Paul, I am sure that you and other famous musicians were misled as to the essence of this latter event and came out for Pussy Riot without knowing these details. That is why I ventured to let you know the position of Russian believers. In your letter addressed to Pussy Riot you struggle for the freedom of art and self-expression. Nobody is against. Everything – freedom, art and self-expression – are elementary rights which God gave every man. As Lord Jesus Christ is teaching us, You shall know the Truth, ant the Truth shall make you free (The Gospel According to John, ch. 8, para. 32). Christianity is the religion of lovers of liberty and free-thinking people.
And in the present Russia our desire to be free is multiplied by that life experience in totalitarian communist state which we, Russians, had. Please note, Sir Paul, that Russian Orthodox Church did not call upon to punish Pussy Riot: judicial proceedings took place upon the court petition of private persons who had been deeply offended by their act. And I understand those people. When Pussy Riot blaspheme in the street, it is their private affair. Many people do the same. But if they break into our church disturbing praying people, blaming our God, out faith, our Patriarch, they offend personally each of us.
Please tell me, Sir Paul, what would be your reaction if during your concert somebody run onto the scene and began to break your instruments, hindering your performance and then took your microphone and in dirty words offend everything that is dear and sacred for you, i.e. your wife, your parents, your art, your moral values? Would you call it self-expression and freedom of art or consider it as usual disorderly conduct? And what would you do in such a situation? I think that as a man possessing chivalry you would not wait for the guard but take actions against such a person yourself.
Probably the sentence for Pussy Riot is somewhat severe. But it was passed by the judiciary bodies. Wishing these young women good, please understand also us, orthodox believers. To nobody we wish ill, prison, long time in prisons, but at the same time we wish that our shrines for which not in so far past out fathers and grandfathers spilled blood, were subjected such an affront. It was not us who pitched the members of Pussy Riot group but it were they who plunged into our church and insulted deeply the present people and thousands of Internet users, which saw the movie with this sacrilege. They mocked before the God's altar. And we wish not long terms in prison for these ill-educated and disorderly women but only that something similar will never take place in any of our churches.
With all due respect,
Hegumen Sergy (Ribko),
Rector of Moscow Church of Holy Spirit,
Member of Intersynodical Presence of Russian Orthodox Church,
in the 70s – drummer of rock-group and a member
of hippies movement