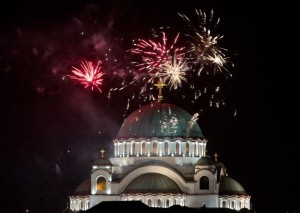 January 14, 2013
BELGRADE — Serbians have rang in the new year for a second time in two weeks – this time, celebrations marked the beginning of 2013 according to the Julian calendar.
People gathered across the country for open-air concerts, as well as in restaurants and clubs.
PM and Interior Minister Ivica Dačić chose to welcome in the new year at the base of MUP's Counter-Terrorist Unit (PTJ), where he said that Serbia's "choice was peace", and that this was the country's "strength, not weakness".
At the same time, according to him, "we are ready to defend every part of our Serbia":
"I would warn anyone who does not mean well to Serbia that all of you, along with me, are ready to defend every part of Serbia. They better not play with that, and better not provoke us, and think they can humiliate us."
There were no organized open-air celebrations in downtown Belgrade, while hundreds gathered at St. Sava's Temple for service, and a display of fireworks at midnight. Others chose to spend the night in Belgrade's restaurants and clubs.
Some 15,000 Serbians gathered in Novi Sad's central square to celebrate the beginning of the new year. The city administration and most public companies have adopted the government recommendation to make January 14 a non-working day, for the first time this year.
Elsewhere, concerts attracted from 5,000 people in Jagodina and Kraljevo, to 15,000 in Kruševac. Only minor incidents have been reported.
Film Director Emir Kusturica and his band entertained revelers in an open-air concert in Kosovska Mitrovica,along with a fireworks display at midnight.
Government Office for Kosovo and Metohija Director Aleksandar Vulin was in Leposavić, also in northern Kosovo, where he attended a concert. Later during the night he traveled to Kosovska Mitrovica to wish the citizens there a happy new year.
Source: B92