On January 19, Orthodox Christians celebrate Epiphany, one of the 12 most important Christian feasts, it commemorates the baptism of Christ by John the Baptist in the Jordan River.
The great blessing of water takes place on this day. Epiphany Water is believed to acquire miraculous healing properties.
Special square holes are cut out in frozen ponds, rivers and lakes across Russia on this day for believers to take a traditional Epiphany dip. More than 50 Epiphany bathing sites have been prepared in Moscow with rescuers and medics  in place to monitor the bathers' safety.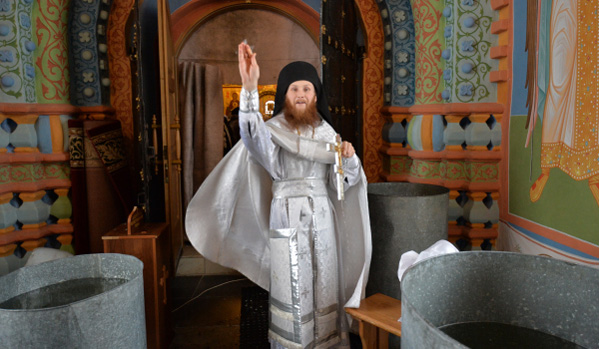 Nearly 125,000 Muscovites have visited the divine services that were held in the Moscow churches on January 19th, the press service of the Central Department of the Russian Interior Ministry for Moscow reported .
" The services were offered in 383 Orthodox churches and monasteries of Moscow," a member of the press –service personnel told Interfax. According to him, more than 290,000 have taken part in the festivities on the occasion over the past two days.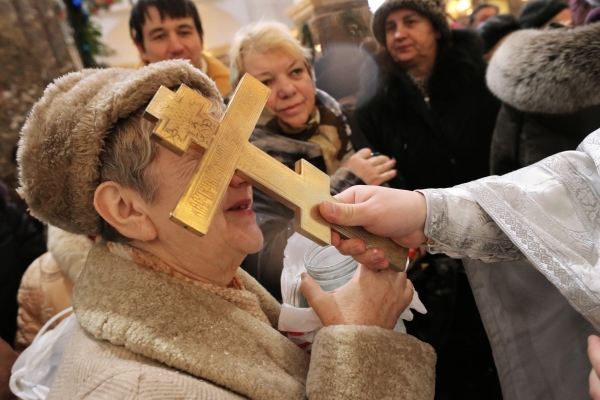 "More than 6,000 policemen, interior force servicemen, and members of voluntary public order squads were involved to ensure public order and security in the Russian capital," he added.
Orthodox believers in Makhachkala, the capital of the North Caucasus republic of Dagestan in southern Russia, gathered on the Caspian coast for the water-blessing ritual this morning. In Kaliningrad, additional buses were provided to help believers travel to bathing sites.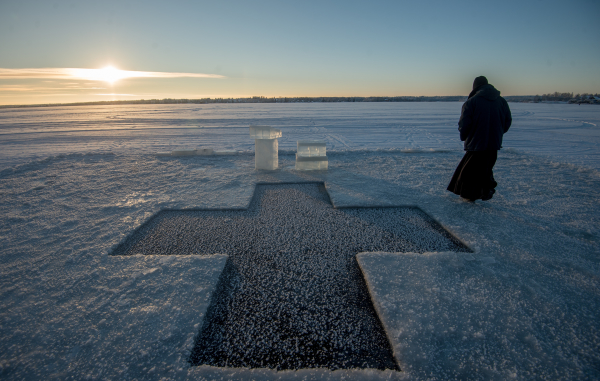 In Moscow, the largest Epiphany ice hole is in the Serebryanny Bor district in the west of the city. There is a separate bathing site at the Medvezhye Lakes northeast of Moscow for paratroopers of a nearby airborne division.
Temperatures in Moscow dropped on Epiphany Eve to minus 20 degrees Celsius.
Bathers in Yakutia, in Russia's Far East, had to perform the traditional triple plunge in exceptionally chilly temperatures of – 45 C (-49 F). The waters of the Lena River they submerged into were only a couple of degrees above freezing.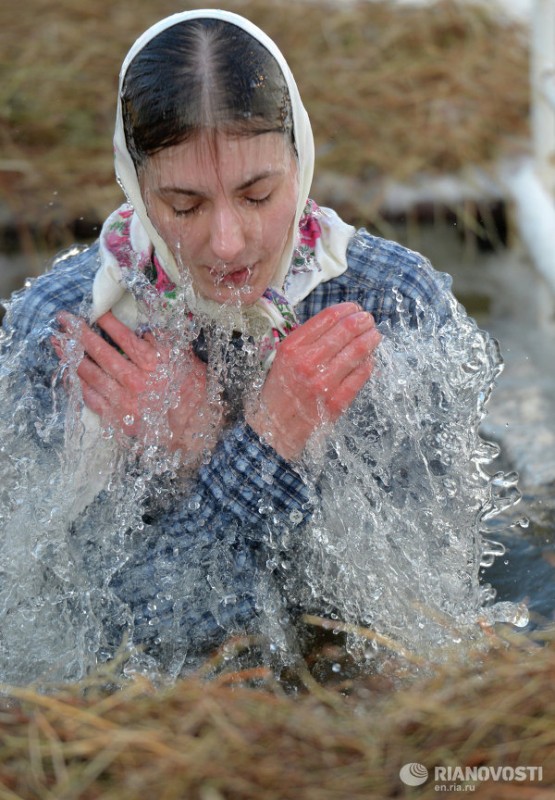 The celebrating crowd was, however, far from complaining.
"No, I am not worried at all!" one of the Yakutian bathers told Ruptly news agency. "This is the fifth year I'm bathing on Epiphany. The feeling is just great, rejuvenating, I would say, it is like being born again. I have never got ill after swimming, everything is perfect."
Russia's Emergency Situations Ministry has been carefully monitoring Epiphany bathing, however. Around 35,000 of its personnel were supervising the icy dips across the country, Itar-Tass reported.
Moscow, in comparison to Yakutia, enjoyed a much milder -20C frost, and around 90,000 took a dip, Interfax reported police as saying.
Source: Voice of Russia, RT, Ruptly news agency
Photo: RIA Novosti