Orthodox Christians from across the US will gather in the US capital for the annual March for Life on Wednesday, January 22, 2014.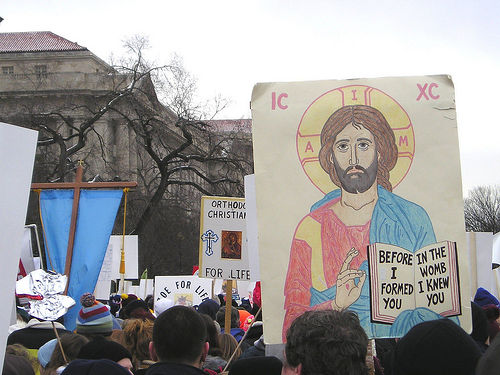 His Beatitude, Metropolitan Tikhon, and several members of the Holy Synod of Bishops of the Orthodox Church in America—His Eminence, Archbishop Nathaniel; His Grace, Bishop Melchisedek; His Grace, Bishop Michael; and His Grace, Bishop Mark—will participate in the March.  It is anticipated that students from Saint Tikhon's Seminary, South Canaan, PA and Saint Vladimir's Seminary, Crestwood, NY, as well as clergy and faithful from the region and beyond, will participate.
Marchers are asked to gather under the "Orthodox Christians for Life" banner at the right side of the stage near Seventh Street.  They will march to the Supreme Court, where Metropolitan Tikhon will lead the hierarchs, clergy and faithful in prayer for the victims of abortion.
Tonight—Tuesday, January 21—Vespers will be celebrated at the OCA's Saint Nicholas Cathedral, 3500 Massachusetts Ave. NW, at 7:00 p.m.  A reception will follow.  All marchers are invited to attend.
On Wednesday evening, Metropolitan Tikhon will offer the invocation at the annual Rose Banquet at DC's Hyatt Regency Hotel.
Additional general information on the March may be found atwww.marchforlife.org.  Specific information on Orthodox Christian participation is available from Orthodox Christians for Life atwww.oclife.org, the Saint Ambrose Society of Saint Vladimir's Seminary atwww.svots.edu/events/ride-bus-student-led-st-ambrose-society-sponsors-participation-march-life-washington-dc, or DC-area clergy.
In related news, an interdenominational service will be held at Constitution Hall on Wednesday, January 22, from 8:30 – 10:30 a.m.  Representatives from many faith traditions—including Orthodox Christian—are expected to attend.
The text of Metropolitan Tikhon's 2014 Sanctity of Life message may be accessed here and in downloadable PDF format.
Source: OCA