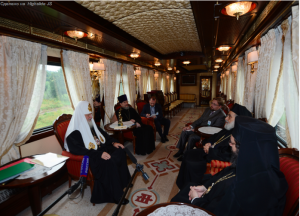 Moscow, July 26, Interfax – Patriarch Kirill of Moscow and All Russia and church notables representing other Orthodox Churches boarded a train in Moscow on Friday to travel to Kiev to attend the celebrations of the 1025th anniversary of the Christianization of Rus.
"An event of great importance is unfolding in a vast historical territory once called Rus. We are celebrating the 1025th anniversary of the Christianization of our people amid festivities of great importance," Patriarch Kirill said at Moscow's Kiyevsky Railway Terminal on Friday.
The train is carrying a three-meter long Cross of the Apostle St. Andrew the First-Called, a relic revered by Christians throughout the world and delivered from Greece to be displayed in Russia, Ukraine and Belarus.
The Cross of the Apostle St. Andrew the First-Called has brought together the heads and representatives of all of the local Orthodox Churches "for a prayer and for a remembrance of Prince Vladimir's great deed, and also to thank God for the uneasy and thorny historical path the Russian Orthodox Church has traversed and to pray that God mercifully bless our peoples in the future," the Russian patriarch said.
He said the celebrations began in Moscow with a church service at the Christ the Savior Cathedral, and with a concert on Red Square, alongside the Orthodox Church leaders' meetings with Russian officials and "extremely important discussions of issues worrying the entire Orthodox world."
From Kiev the Orthodox Church leaders will travel by rail to Minsk and return to Moscow on July 30.
Source: Interfax-Religion