July 1, 2013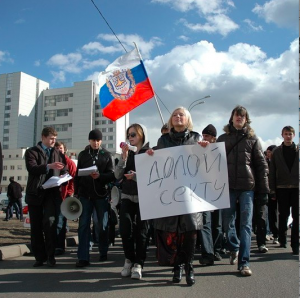 Moscow, July 1, Interfax – An Orthodox Christian rally on Saturday that brought together about 200 people condemned the allegedly proselytizing activities of Moscow's Scientologist community and demanded the construction of numerous Orthodox churches in the city.
Indignation was expressed at the rally, held on 1905 Square in central Moscow, with the fact that the "totalitarian sect" occupies a large former mansion not far from the Pokrovsky Convent in the city's historic Taganka area and is "intensively trying to recruit people who come [to the convent] to venerate the relics of St. Matrona."
"In the 21st century, wars are fought with information and Web methods, totalitarian sects are used intensively, and so anyone who cares about the survival of Russia must join the body of the Russian Orthodox Church," said one of the rally organizers, Valentin Lebedev, leader of the Orthodox Citizens Union.
The leader of the Forty Times Forty group, Andrei Kormukhin, demanded a ban on Scientologist activities in Moscow, especially near an Orthodox place of worship.
"In what is in effect a city of 15 million, we need 1,600 new churches – 'forty times forty,' – and very soon as well, as at least minimal compensation for the damage done to the church by the theomachists," he said.
The meeting issued an appeal to the mayor and the head of the city legislature to take measures to prevent "sects" from activities that may exercise any influence on secondary and primary schools and to help governmental agencies whose duties include control of Scientologist and "other destructive religious organizations."
The reason for the rally was a ruling by the Gagarinsky District Court late in May that upheld the Justice Ministry's grievances against the Scientologist Church of Moscow and the Management Center for the Dissemination of Dianetics and Scientology.
Source: Interfax-Religion