July 12, 2013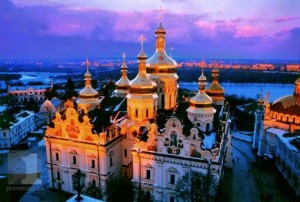 The Ukrainian government has decided to give to the Ukrainian Orthodox Church (the Patriarchate of Moscow) for free use 75 objects of the national preserve—the Kiev Caves Lavra (Monastery) of the Dormition, reported the minister of culture Leonid Novohatko on Thursday. The respective decree was approved at the meeting of the cabinet, reports Ria Novosti.
"The adoption of the government decree will legally regulate the de facto situation that has existed for decades in the Lavra (Monastery) of the Kiev Caves. I would like to point that there is language only concerning free use of the property and not on separation from the owner," the press service of the Ministry of culture cites Novohatko.
The agency explains that the legal relations between the state and the religious communities are stipulated by the current legislation—specifically, by the standards of the economic code. The Sts. Florus and Laurus Convent, the Protection Monastery and the Church of Nativity of Christ near the Rechnoi station in Kiev are used precisely on such terms.
The legislation also provides for reversal: the state can take the property back, if "a religious community is holding it incorrectly".
According to the present decision of the government, the property maintenance costs are now entirely entrusted to the religious community.
The Kiev Caves Lavra, the largest Orthodox monastery in the Ukraine, was founded in 1051. In 1159, it received the title of "Lavra".
The decision to establish a state historical-cultural preserve based on the monuments of the Kiev Caves Lavra was made in 1926. In 1988, the complex of buildings and constructions of the Far Caves was given for use to the Ukrainian Orthodox Church (of the Patriarchate of Moscow), and in 1990, the Near Caves complex was granted as well. At present, 121 monks live in the monastery. In 1990, the architectural ensemble of the Lavra of the Kiev Caves became a UNESCO World heritage site.
Source: Pravoslavie.ru