May 4, 2013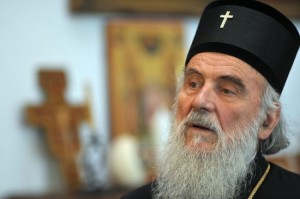 Any autonomy of Kosovo-Metohija is acceptable, even the broadest one, but a de facto recognition of the unilaterally proclaimed statehood and independence of the province is not, said Patriarch Irinej of the Serbian Orthodox Church (SPC), Tanjug Reported.
Whatever happens in the future, the SPC will survive and stay with its people and holy sites in Kosovo-Metohija, as it has been doing for centuries, he said.
"In the long run, it is more important for the state's stability and survival that a solution for the issue of Kosovo-Metohija be grounded in the Constitution than anyone's stand, even that of the SPC. We must not violate our own Constitution. The government has our full support to find the best possible solution for the Serbs and (ethnic) Albanians in Kosovo-Metohija to live alongside each other by adhering to the highest law," the Patriarch said to Belgrade-based daily Vecernje Novosti.
Patriarch Irinej underscores that the SPC's stance on the future of the province is unchanged, and that Serbia's EU path, which the SPC also backs, cannot be paid by giving up on Kosovo-Metohija.
"As regards Europe, by defending Kosovo-Metohija, the holy sites that are as numerous there as stars in the summer sky, we, I am convinced, are defending today the greatest values of European civilization," he said.
According to the Patriarch, we can see that EU member states do not have a unanimous position on the issue of Kosovo-Metohija either, and that Serbia's integration process, given the political and economic reality of today, will be a lengthy one, and could even take two decades.
"We must be even more consistent in respecting ourselves and our dignity. I hope that our state leadership will be able to find bridges toward Europe that will ensure the peaceful and stable development of our society and people," the Patriarch said.
"On the other hand, there have been centuries-old bridges toward the brotherly people of great Russia, which are, thank God, always open to us," Patriarch Irinej said.
Source: InSerbia