June 4, 2013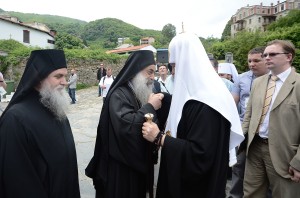 On June 4, 2013, His Holiness Patriarch Kirill of Moscow and All Russia arrived on Holy Mount Athos, accompanied by Metropolitan Hilarion of Volokolamsk, head of the Moscow Patriarchate's department for external church relations, Bishop Sergiy of Solnechnogorsk, head of the Moscow Patriarchate's administrative secretariat, and Schiarchimandrite Iliy (Nozdrin).
Among the welcoming part were Athos Governor Aristos Kasmiroglou, Presidential Envoy for the Russian Federation Central Region A. Beglov, and Chairman of the State Duma committee for the CIS and relations with compatriots, L. Slutsky.
Among those who met Patriarch Kirill were also Archbishop Feognost, abbot of St. Sergius' Monastery of the Holy Trinity, V. Legoida, head of the synodal information department, Archpriest Nikolay Balashov, DECR vice-chairman, Archpriest Igor Yakimchuk, DECR secretary for inter-Orthodox relations, Protodeacon Vladimir Nazarkin, assistant to the DECR chairman, and M. Kuksov, head of the patriarchal personal secretariat.
From the port of Dafni His Holiness Kirill proceeded to Karyes, the administrative center of Mount Athos.
On the Holy Mount, the Primate of the Russian Church is to visit several monasteries and hermitages, venerate their shrines, celebrate the Divine Liturgy at the Russian Monastery of St. Panteleimon and meet with members of the Holy Epistasia, the Holy Mount Athos executive body.
Source: DECR