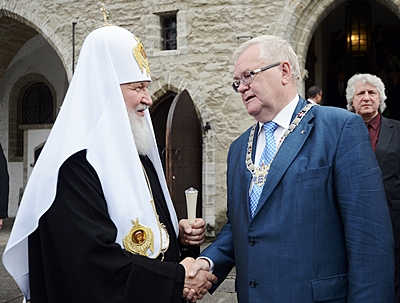 Tallin, August 28, Interfax – Patriarch Kirill of Moscow and All Russia on Wednesday conferred a high church honor on Tallin's mayor for helping build an Orthodox church in Estonia's capital.
The patriarch handed the insignia of the Order of Glory and Honor of the Russian Orthodox Church to Edgar Savisaar during a meeting in Tallin and again thanked the mayor for warm welcome he gave the patriarch during his visit to the city in June, the mayor's office told Interfax.
Savisaar expressed gratitude for the honor and credited Patriarch Kirill with care for the needs of Tallin's Orthodox community.
The construction of the Church of the Icon of Panagia Gorgoepikoos – an icon of the "All-Holy (Virgin Mary) Who is Quick to Hear" – whose construction has been funded by ordinary Orthodox believers in Estonia with support from the Moscow mayor's office and the Russian Foundation of Saint Andrew the First-Called.
The church is due to open on September 28, the Tallin mayor's office said.
The foundation stone was laid by the late Patriarch Alexy II, former head of the Russian Church, who had been born in Tallin. The square in front of the church is named after him, and there is a monument to him on it.
Source: Interfax-Religion