His Holiness Patriarch Kirill of Moscow and All Russia sent the following congratulatory message to His Beatitude Anastasios, Archbishop of Tirana and All Albania, on the occasion of the 20th anniversary of his enthronement as Primate of the Albanian Orthodox Church: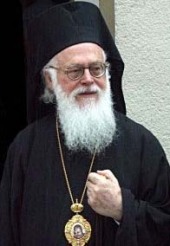 Your Beatitude,
Beloved in the Lord Brother and Concelebrant:
I cordially greet you and from my heart congratulate you on the 20th anniversary of your enthronement.
Having ascended to the primatial throne of the Albanian Orthodox Church, which has experienced severe prosecution in the last century, you have raised it from ruins and ensured the full-fledged development of all the aspects of church life, thus gaining your flock's sincere love and respect and profound esteem and recognition throughout the Orthodox world.
On this auspicious day, I share the joy of the Most Holy Albanian Church as she celebrates the 20th anniversary of your primatial ministry and lift up prayers that you may be granted sound health and God's help in further successful fulfilment of the lofty mission entrusted to you.
With brotherly love in the Lord,
+ KIRILL
Patriarch of Moscow and All Russia