Moscow, January 23, Interfax – Patriarch Kirill of Moscow and All Russia has presented the Orthodox Church of Georgia with a relic of Alexander Nevsky, a canonized medieval Russian prince.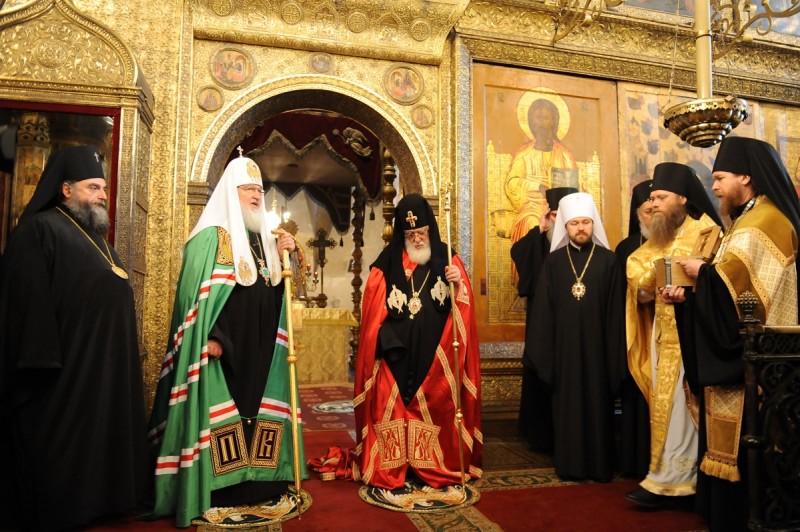 He handed the relic during a ceremony after a communion service at the Kremlin's Cathedral of the Assumption that he led jointly with the head of the Georgian Church, Catholicos-Patriarch Ilia II.
Patriarch Kirill mentioned that 2013 is the year of the 650th anniversary of Alexander Nevsky's death and the tercentennial of the Alexander Nevsky Lavra in St. Petersburg.
He expressed a desire that Georgians should pray for Russia and Georgia before the saint's relic. He pointed out that Alexander Nevsky is venerated in Georgia as well as in Russia, and mentioned the Church of St. Alexander Nevsky in the Georgian capital, Tbilisi.
Ilia called Kirill a "defender of Orthodoxy" and gave him a copy of the famous Iveron Theotokos icon and an icon of St. Nina, the enlightener of Georgia.
In speaking about the icon of St. Nina, Ilia mentioned that Nazi troops were forced to end their siege of the Patriarch Kirill's native city of St. Petersburg during World War II on January 27, St. Nina's Day. "I hope that this icon will protect St. Petersburg," the Georgian Patriarch said.
Source: Interfax-religion