June 7, 2013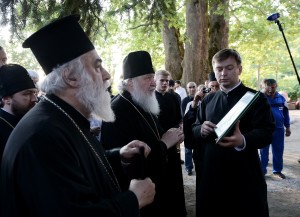 On June 6, 2013, His Holiness Patriarch Kirill of Moscow and All Russia, who is on a pilgrimage to Holy Mount Athos, visited the monasteries of Zograf, Hilandar, and the Xilourgou and St. Andrew's hermitages. On his way to the St. Panteleimon monastery, the Primate of the Russian Orthodox Church and his party visited the Old Russia hermitage.
At the place where the altar of the Church of St. Panteleimon used to stand, His Holiness read a Prayer before Every Good Deed.
Then His Holiness and Mr. A. Beglov, Presidential Envoy in the Russian Federation Central Federal Region, saw the restoration work in the monastery buildings and visited the church of St. Andrew. In the church, which is still to undergo interior finish, the troparion to the Holy Protomartyr and Healer Panteleimon was sung.
DECR