June 4, 2013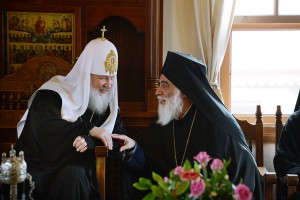 On June 4, 2013, His Holiness Patriarch Kirill of Moscow and All Russia, during his stay on Mount Athos, met with members of the Epistasia, the executive body of Holy Mount Athos.
The Primate of the Russian Church was welcomed by Protoepistat Fr. Maxim and representatives of the Athonite monasteries. Among the welcoming party was also Metropolitan Apostolos of Miletus, representative of the Patriarchate of Constantinople on Holy Mount Athos.
In response to the welcoming speeches by Fr. Maxim and Metropolitan Apostolos, Patriarch Kirill asked them to convey to His Holiness Patriarch Bartholomew of Constantinople his love and joy over the opportunity to pray on Holy Mount Athos.
'The Holy Mount', he said, 'is really the center of the entire Orthodoxy. Great is the responsibility of those who carry out their service here including for the preservation of unity of all the Orthodox Churches, for the purity of Orthodoxy and monastic life. Through their prayers, the Athonite monks support Orthodoxy throughout the world'.
'I would like to assure His Holiness Patriarch Bartholomew of our prayers. We are aware of the disturbances in Constantinople and in Turkey. We pray that all these disquiets may not involve His Holiness the Patriarch and his Holy Throne of Constantinople', he said in conclusion.
Source: DECR