On May 29, 2012, His Holiness Patriarch Kirill of Moscow and All Russia met with His Beatitude Theophilos III, Patriarch of the Holy City of Jerusalem and All Palestine, who came to Kazakhstan for the 4th Congress of Leaders of World and Traditional Religions.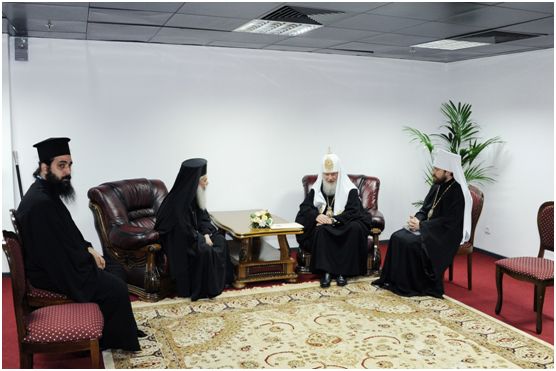 The two Patriarchs discussed bilateral relations between the Orthodox Churches of Russia and Jerusalem.
His Beatitude Theophilos reiterated to Patriarch Kirill the invitation to come this year to the Orthodox Church of Jerusalem for a peace visit.
Participating in the meeting was also Metropolitan Hilarion of Volokolamsk, head of the Department for External Church Relations.
Source: Moscow Patriarchate's Department for External Church Relations