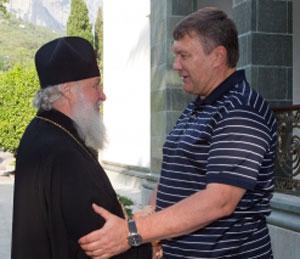 In the evening of July 28, 2012, His Holiness Patriarch Kirill of Moscow and All Russia and Ukrainian President Victor Yanukovich had a talk at the presidential residence in the Crimea.  
Mr. Yanukovich noted with satisfaction that the large-scale celebrations held by Local Orthodox Churches to mark the Day of the Baptism of Russia and the commemoration day of St. Vladimir Equal-to-the-Apostles have already become a good tradition. The annual celebrations point to the considerable role that the Orthodox Church plays in the life of society and makes a considerable contribution to the consolidation of spiritual and moral values, he said.  
Patriarch Kirill expressed joy over the fact that the Baptism of Russia festival has coincided this year with the celebrations marking the 20th anniversary of Metropolitan Vladimir's ministry at the chair of Kiev.  
With this meeting with President Yanukovich Patriarch Kirill concluded his visit to Ukraine.