July 22, 2013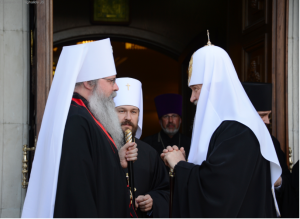 On July 22, 2013, His Holiness, Patriarch Kirill of Moscow and All Rus' received His Beatitude, Metropolitan Tikhon, who had arrived in Moscow two days earlier to participate in the celebrations of the 1025th anniversary of the Baptism of Kyivan Rus'.
Metropolitan Tikhon was accompanied by His Grace, Bishop Alexander of Toledo and the Bulgarian Diocese, Chairman of the Orthodox Church in America's Office of External Relations and Inter-Church Relations; Archpriest John Jillions, OCA Chancellor; Archimandrite Alexander [Pihach], OCA Representative to the Moscow Patriarchate and Dean of Saint Catherine Representation Church; Deacon Jesse Isaac, Archdiocese of Canada; and Deacon Cyril Dotsenko, Saint Catherine Church, Moscow. The Russian Orthodox Church was represented by His Eminence, Metropolitan Hilarion, Chairman of the Patriarchate's Department for External Church Relations [DECR]; His Grace, Bishop Clement of Krasnoslobodsk and Temnikov; Archpriest Nikolai Balashov, DECR Deputy Chairman; Archpriest Igor Jakimchuk, DECR Secretary for Inter-Orthodox relations; Archpriest George Roschin, Representative of the World Russian People's Council at the United Nations, who serves at Saint Nicholas Cathedral, New York, NY.
In welcoming Metropolitan Tikhon, Patriarch Kirill noted that he considers the visit of very important.
"Over the last 25 years there have been great changes, not only in the life of the Russian Church, but also in the lives of our people," Patriarch Kirill said. "Today, many people identify with Russian Orthodoxy. This is evident by the number of believers, including youth, who attend services. An increasing number of churchly people fast and regularly receive Communion. But perhaps most important, many people are beginning to root the motivation of their actions in Christian beliefs.
"We want to pray together with the Heads of the Local Orthodox Churches, and to thank God for the grace that was revealed to the Russian people," Patriarch Kirill continued. "But at the same time, we want to pray together with all the Orthodox Churches of the Lord to bless our ongoing historical path. We are faced with many problems of various kinds—because the Church and nation are large. A positive response to these problems will have very good effects on people's lives, while a negative response will slow our people's spiritual development…. The [1025th Anniversary] celebration will be held in Moscow, Kyiv and Minsk—three capitals, heiresses of Holy Rus'. For us, it is equally important that in all three places, these celebrations have become a stimulus for further spiritual growth."
In response, Metropolitan Tikhon thanked Patriarch Kirill for his hospitality.
"Your Holiness, the Orthodox world is now facing some difficulties," said Metropolitan Tikhon. "As you know, the United States, including our Orthodox Church in America, also is facing a number of problems." He went on to thank Patriarch Kirill for his assistance and wise counsel in the recent past.
The Primates discussed a number of issues affecting Orthodoxy world-wide. They expressed a common concern with regard to threats to the existence of the Christian presence in Syria and the Middle East in general. Particular concern was expressed with regard to the lengthy captivity by militants of Metropolitans Paul of Aleppo and Mar Gregorios John Ibrahim of the Syrian Orthodox Church.
Patriarch Kirill, in conjunction with the 1025th celebration, awarded Metropolitan Tikhon with the Order of Saint Vladimir, First Degree. Bishop Alexander was awarded the same Order, Second Degree, while Archimandrite Alexander, Father Jillions, and Deacons Cyril and Jesse were awarded the same Order, Third Degree. Other gifts were exchanged.
One day earlier, Metropolitan Tikhon and his entourage visited Moscow's Donskoy Monastery, where they venerated the relics of Saint Tikhon, Patriarch of Moscow, who served as bishop and later archbishop in North America from 1897 until 1907. Abbot Paramon Vicar of the monastery abbot Paramon [Golubka] familiarized the OCA delegation with the monastery church and necropolis, as well as with the life of the monastery today. From there, Metropolitan Tikhon and the delegation visited the Pokrovsky Monastery to venerate the precious relics of the Blessed Matrona of Moscow. Members of the monastic sisterhood warmly greeted their guests and spoke about the monastery's history, current state, and physical restoration.
Photo galleries of the visit may be viewed on Saint Catherine's web site. A photo gallery from July 21 may be viewed on the OCA web site. A video can be viewed on www.patriarchia.ru.
Metropolitan Tikhon and the OCA delegation arrived in Moscow on Saturday, July 20 to participate in the week-long celebrations slated to be held in Moscow, Russia; Kyiv, Ukraine; and Minsk, Belarus. Additional members of the OCA delegation include Archpriest Leonid Kishkovsky, Director of External Relations and Inter-Church Relations.
Source: OCA