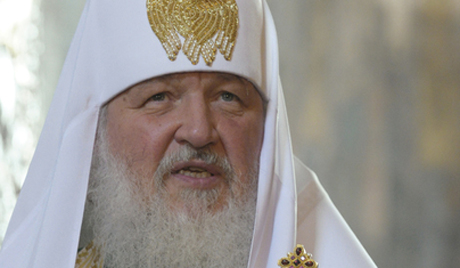 Patriarch Kirill of Moscow and All Russia has arrived in Smolensk on a two-day visit, whose significance for both Orthodox and Catholic Christians is hard to exaggerate.
During his stay in Smolensk, a city about 300 km west of Moscow, the Patriarch will take part in Divine Services held in local churches and consecrate an Orthodox temple at the ill-famed Katyn forest where thousands of Polish officers were summarily executed by Stalin secret police in April and May 1940.
"The importance of this church in mending ties between the Russian and Polish people is really paramount, said Deacon Alexander Volkov, who heads Patriarch Kirill's press service, in an exclusive interview with the Voice of Russia."
The Patriarch had on many occasions underscored the importance of building such a memorial complex in what he calls a "Smolensk Golgotha". The church is now ready for consecration and will serve as a place where Russians and Poles will come together praying for the Poles and Russians buried here, a place to heal political and religious wounds which still hurt today…
Narrator: The Katyn memorial complex located in the Katyn forest some 20 kilometers from the Smolensk features at least 150 mass graves holding the remains of an estimated 14,000 Soviet and Polish nationals executed there. The tragedy had for decades been a major irritant, souring relations between the two countries. In an official statement made in 2010 the Russian parliament condemned the execution of thousands of Polish officers in Katyn as a crime committed by Stalin's repressive regime.
Patriarch Kirill's trip to Smolensk comes ahead of a historical visit to Poland – the first by an Orthodox primate to a Catholic country – where the heads of the Russian and Polish Churches will make a joint call for reconciliation between the two neighboring nations, based on shared Christian values. This is what Bishop Georgy Semiaticki, an official representative of the Polish Catholic Church and Polish Army Chaplain, told our correspondent:
"As a religious man and a Christian, I can't imagine that this dark shadow of the past can forever divide our two people. There were difficult times both in Russia and Poland, of course, and also in relations between us, we know that… But I don't think we should allow the past to ruin the prospects of the mutually-rewarding ties between our two countries. That's why I deem Patriarch Kirill's upcoming visit as so all-important and hope that it will have a healing effect on the relations between Poland and Russia…"
Patriarch Kirill will be visiting Poland from August 16 through 19.
Source: The Voice of Russia