June 13, 2013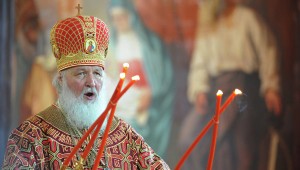 Patriarch Kirill of Moscow and All Russia will hold a liturgy in downtown Moscow on Thursday, when the Russian Orthodox Church he leads celebrates Ascension, the patriarch's press service reported.
The church where the patriarch will hold the divine service is called the Greater Church of the Ascension near the Nikitskiye Gates and has a special historical significance: great Russian poet Alexander Pushkin married Natalya Goncharova in it in 1831.
The Ascension of Jesus Christ to heaven is one of the main feasts in the Christian liturgical year, marked forty days after Easter, on Thursday in the sixth week following Easter Sunday.
Forty days after his Resurrection, Christ told the Apostles: "But ye shall receive power, after that the Holy Ghost is come upon you: and ye shall be witnesses unto me both in Jerusalem, and in all Judaea, and in Samaria, and unto the uttermost part of the earth."
"And when he had spoken these things, while they beheld, he was taken up; and a cloud received him out of their sight," says the New Testament's Book of Acts (1:8-9).
This year Russia, where Orthodox Christians constitute a majority, celebrated Easter, Christianity's most important feast, on May 5.
The Resurrection of the Savior, commemorated on Easter, symbolizes the victory over sin and death and the birth of a new world redeemed by his Passion. It is from Easter until Ascension that believers greet each other with "Christ is risen!" and the reply "He is risen indeed!" followed by three kisses.
The ascension is regarded as the formal completion of Christ's mission in this world, and glorious return to the Father who sent him.
Source: RIA Novosti