June 13, 2013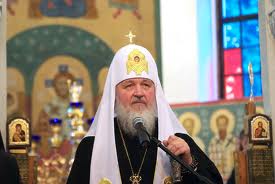 Patriarch Kirill of Moscow and All Russia will visit Estonia from June 14 to June 16, Protodeacon Alexander Volkov, the head of the patriarchal press service, told Interfax-Religion.
"The head of the [Russian Orthodox] Church will visit the Estonian Orthodox Church in order to share the prayer with Orthodox Christians of Estonia. The visit's program will include numerous religious services and meetings with the faithful," he said.
Upon arrival, the Patriarch will preside over a religious service at Tallinn's Alexander Nevsky Cathedral, and will conduct a religious service at Puhtitsa Convent, a major Russian monastic center, on June 15.
On the same day, Patriarch Kirill is also expected to visit the Narva Diocese, which was established in 2011 within the Estonian Orthodox Church. It will be the Patriarch's first visit to the town of Narva, which is located near the Russian-Estonian border, where he will preside over a religious service at a local cathedral.
"Another very important religious service will take place on Sunday," Father Alexander said.
"The Patriarch will consecrate a stately cathedral named after the Mother of God Quick to Hearken icon in Tallinn's Lasnamae district. The groundbreaking ceremony for this cathedral took place a decade ago under the late Patriarch Alexy II, who grew up in Estonia and had a special connection with this country," he said.
During the visit, Patriarch Kirill plans to meet with a number of Estonia's high-ranking officials, including the prime minister, parliament speaker, foreign minister and Tallinn mayor, as well as the archbishop of the Estonian Evangelic Lutheran Church.
On the first day of his trip, the head of the Russian Orthodox Church will visit the Linda Monument in Tallinn and will lay flowers at the World War II Bronze Soldier Monument.
"Doubtless, the visit by the head of the Russian Orthodox Church to Estonia will play an important spiritual role for Orthodox Christians who live in this country," Father Alexander said.
Source: Interfax Religion