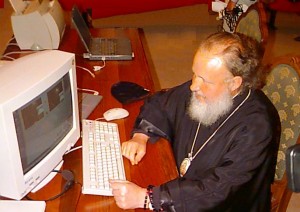 Moscow, January 3, Interfax – Patriarch Kirill of Moscow and All Russia has said that the diversity of ideas inherent in church circles sometimes assumes absurd forms in the Internet environment.
"In the web space groups of church liberals and conservatives are appearing that are not looking for the truth, divine truth but a means of finding fault, stinging each other. This is a very sad tendency," he said at a diocesan assembly in Moscow ahead of New Year.
He said that divisions and feuds within the church "are evidence of infantility, childishness in faith which sometimes assumes ruffian forms."
"But if for the media format of contacts such phenomena are quite natural as they comply with modern ideas of the freedom of though, they are deeply alien to our centuries-old church tradition, as they are alien to the very spirit of Evangelical teaching," the Patriarch said.
Source: Interfax-Religion