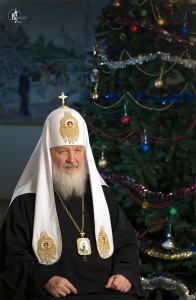 Moscow, January 7, Interfax – Patriarch Kirill of Moscow and All Russia in his TV message on the Russian Orthodox Christmas raised the issue of orphans.
"It is particularly in connection with the feast of Christmas that I would want to address this request to everyone who can take an important step in their lives aimed at adopting children, at supporting orphans to take this step. There should be no orphans in this country. Those who don't have parents should get them from among kind, honest and responsive people," he said on TV before the night-time service which he led in the Cathedral of Christ the Savior.
He said that the story of Christmas teaches us that if Christ was accepted by shepherds, by common people, then today too people should be looking for him "not there where glitter and gold rule, not there where might and power are but there where weakness and need prevail."
"That is why God addressing his followers said that in order to reach the Kingdom of Heaven it is vital to visit the sick, the imprisoned and to share one's opportunities with those who need our help, primarily the disabled, elderly and children," the Patriarch said.
He also stressed that there are many children in Russia without parental care even though their parents are alive.
"And it is so important for our people to take orphans to their families with joy, with a special feeling of gratitude to God offering them not only shelter and upbringing but giving them love. Jesus said: "Let the children alone and do not hinder them from coming to Me." And in a sense this word should give us the understanding of how important children are in the eyes of the Lord," the Patriarch added.
Source: Interfax-Religion