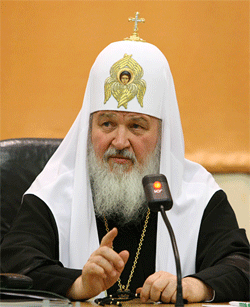 Moscow, December 19, Interfax – Patriarch Kirill of Moscow and All Russia said he urged protecting clergy from attacks of extremists.
"I think that society and authorities should protect spiritual teachers, whose word is tested with life. Shedding the blood of religious leaders should be recognized as an especially vicious crime by society," the Patriarch said during the meeting of the Russian Interreligious Council celebrating its 15th anniversary.
The meeting participants had a minute of silence to honor the memory of clergy deceased.
As to the desecration of religious relics, "these provocations are the attempts to incite enmity between representatives of different religions, nations and beliefs and to destroy the long-standing principles of dialog and cooperation," Patriarch Kirill said. "Amid such conditions we, leaders of traditional religions, should show everyone the example of support in difficult situation and to resist such crimes jointly," the patriarch said.
The activities of traditional communities "become the most important conditions of spiritual and physical safety of citizens," Patriarch Kirill said.
Source: Interfax-religion
You might also like: