June 7, 2013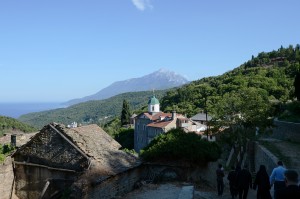 On June 6, during his stay on Holy Mount Athos, His Holiness Patriarch Kirill of Moscow and All Russia visited the Xilourgou hermitage dedicated to the Dormition of Our Lady.
The head of the hermitage, Hieromonk Simon, addressed the Primate of the Russian Church from the ambo of the Cathedral of the Dormition. He said his hermitage was popularly called 'Theotokos' on Mount Athos. 'We see the Holy Mount as one monastery which has one Mother Superior. She has a cell in her monastery, which is called 'the Mother of God'. This excellent cell is the oldest Russian monastic abode in the world'.
'It is the oldest Russian monastery in the world, indeed', Patriarch Kirill stressed. 'From this the Russian Athos generated. Monks came to settle here in 916, and in three days' time we will celebrated the centenary of the Russian presence on Holy Mount Athos. The task therefore is to restore Xilourgou along with the Russian St. Panteleimon and the Old Russic Monasteries', so that the centenary of the Russian monasticism on Mount Athos could be celebrated in a beautiful place', he said.
His Holiness presented the hermitage with a copy of the liturgical Gospel.
Patriarch Kirill saw the places which need restoration including the monastic cells, the church of St. John of Rila and the ossuary. In the two-storey building of monastic cells, he visited the church of Ss Cyril and Methodius and sang together with his party the troparion to the holy brothers of Thessaloniki.
Source: DECR