July 22, 2013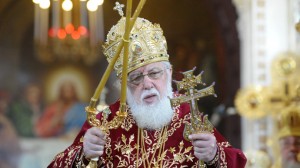 Despite the South Ossetian war of 2008, close religious and human ties remain between Georgia and Russia, Patriarch of Georgia Ilia II told RT. He expressed hope that politicians in the two Orthodox states will "find a way out of the dead end."
On Tuesday, the most influential figure in Georgia's religious, political, and public life is arriving in Moscow to celebrate the 1025th anniversary of the Christianization of Russia. Catholicos-Patriarch Ilia II is the only official in Georgia who has kept his ties with Russia. After the August 2008 War, Russia and Georgia severed diplomatic relations. So for the past five years, Patriarch Ilia has been the only Georgian representative to visit Russia. He has met with Patriarch of Moscow Kirill, and even President Putin. Their first meeting took place at the funeral of Patriarch Aleksy II, only four months after the war.
Patriarch Ilia's influence in Georgia is unprecedented. Polls conducted by US companies show that his approval rating has never been lower than 92 per cent. Five years ago, the Patriarch personally spoke to Russian military commanders, visiting the war zone to bring out bodies of Georgian soldiers.
Ahead of his visit to the Russian capital, Patriarch Ilia spoke to RT commentator Nadezhda Kevorkova.
Russian citizens do not need visas to go to Georgia, but Georgians can only enter Russia if they have a letter of invitation. Several days ago, the administrative border – set unilaterally after the August 2008 war – was moved 300 meters towards Georgia. A fence is currently being built on the site.
Russia and Georgia have different views on what happened five years ago. Georgia says that Abkhazia and territories around Tskhinval were occupied by Russia. But Russia's position is that the Georgian army, on Mikhail Saakashvili's order, attacked South Ossetia, and Russia had to defend the civilians, and then recognize independence of the two republics. The Russian Orthodox Church did not recognize the self-proclaimed independence of the two church communities, staying true to the unity of Orthodox Christians.
Ahead of his visit to Russia, Patriarch Ilia talked about close ties between Russia and Georgia. Besides Orthodox Christianity, they have shared culture, traditions, history, poets, and even the most well-known Georgian and influential USSR leader Joseph Stalin.

RT: Your Holiness, it's been five years since the tragic events. In what way would you probably admonish our nations and what would you say? What would you tell those who have gone through such a tragedy in the history of our Orthodox nations?
Patriarch Ilia: First of all, I'd like to greet everybody who will listen to or read this interview. I want to note that tense relations between Georgia and Russia have been artificially concocted. Despite all the difficulties between the two countries, Georgian and Russian churches managed to preserve the brotherhood, and so did our people – they preserved kind ties as well.
We welcome Russian pilgrims with joy and they attend our prayers. Our pilgrims, in their turn, visit Russian sanctuaries and holy sites. It can't last long – there are kind driving forces both in Russia and in Georgia which will stabilize these uncertain relationships and I believe that Abkhazia and Tskhinvali will become part of Georgia again.
We have preserved these kind relationships with the Abkhaz and Ossetian people, too. As you know, I was born in Vladikavkaz. I graduated from high school there and I know the Ossetians quite well. They are kind and gifted people. We were so close with them that our family's spiritual father was the Ossetian, Father Mikhail Dzatsoev.
As for Abkhazia, I was a Metropolitan of Abkhazia for 11 years and can't recall a single misunderstanding between us.
I don't think there are any barriers. In case we face a dead end, we should find a way out of it.
RT: Your Holiness, at this point you are the only person who is given the spiritual authority – literally the only one who can communicate with Russia. Today you are one of the few people who may travel from Georgia to Russia at all. The fact that the Patriarch is the only one who can carry out negotiations is unprecedented. How should we regard this? How should we take this?
PI: The negotiations can be carried out by both clergy and laity. There are no barriers. Moreover, we have a new government that is open for talks. And I believe such talks will take place.
I am not the one carrying out the negotiations, let alone political ones. I just always express my opinion, because you can't turn a blind eye to the complications that arose in the relations between Russia and Georgia.
I think we have always been fraternal nations and will stay this way – we just need to be frank with each other and shouldn't do things that irritate the other side. For instance, the administrative border has been recently moved 300 meters further into Georgian-controlled territory. For Russia it means nothing but for Georgia, it is a lot – and it hurts.
RT: How should we talk to about it?
PI: In Georgia?
RT: No, in Russia. We don't understand who is in charge of it here in Russia.
PI: The president says that it's the scope of competence of our new prime minister. They must negotiate, meet, and discuss ways to solve these issues.
Georgia cannot be divided. Our Lady will not allow this to happen. This would be a large sin. Abkhazia and Tskhinvali are territories which were originally part of Georgia.
That's why I think that Russians and Georgians as Christians will definitely find a way out of this complicated situation.
I love Russia. I got my education there at the Clerical Seminary and the Clerical Academy in the town of Zagorsk (now called Sergiev Posad – translator's remark) in the Holy Trinity Monastery of St. Sergius.
I revere St. Sergius as my spiritual father and always pray to him. And when we had this wall painted, we put St. Sergius and Saint Seraphim of Sarov among Georgian saints, here in the second row.
Yesterday we marked one of the remembrance days related with St. Sergius and I sent a wire with congratulations to Patriarch Kirill.
RT: Is there anything else that unites our two nations?
PI: We are united by everything that's around us – not just religion, not just Orthodox Christianity and our culture. Georgians love Russian culture. Georgians love Russian literature and philosophy, especially the works of Pavel Florensky, Berdyaev, and others. When I was a student at the Seminary and the academy in the Soviet times, these books were banned by the authorities, but we still found a way to read them.
RT: Today marks the anniversary of famous Soviet poet Vladimir Mayakovsky's birthday…
PI: Mayakovsky was born in Georgia. I read some of his works but he is a poet I don't really understand. I'll quote you a line: "A Bolshevik in tears? Should a museum put him on display? What a house he'd draw…" This is well-phrased but the meaning escapes from me.
RT:  While we are talking about significant actors of the 20th century I'd really like to ask you about Stalin. You should've noticed that the further we get from Stalin's era in Russia, the more he becomes a personification of the proper, if not fair, statehood. In Georgia, people tell me that they don't even consider him truly Georgian because he got so "Russified."
PI: No, he was both Georgian and Russian at the same time. He was of Georgian origin and he spoke fluent Georgian. He knew Georgian folk songs as well as chants. When he died, I was studying at the Seminary. We all gathered at the assembly hall and cried at his burial ceremony.
Our Chancellor, Father Konstantin Ruzhitsky, told us a lot about Stalin's personality. He learned it from Patriarch Aleksy I (Simansky). Aleksy I, Patriarch of Moscow and all Russia, was an exceptional individual. He was a man of great culture and spirituality. He truly respected and loved Stalin.
One day, Stalin had a reception for Patriarch Alexy I, Patriarch Sergy, Metropolitan Nicholas (Yarushevich), and High Priest Nicholas Kolchitsky. So he asked them, 'What is it that you need?," and they replied that they were grateful that he gave permission to open churches. He responded, "No, that's not enough. Go ahead and open Seminaries and clerical schools.' He had studied at the Seminary too, so he knew the value of religious education."
Stalin was an outstanding person. Such people are quite rare. He understood the worldwide significance of Russia.
RT: What did Stalin do for Georgia? Some people told me that he never took care of Georgia and that he should have done more for this country. However, I do know that some churches were opened in his time.
PI: He just treated all the Republics equally. He didn't single out Georgia in any special way. In World War II, however, the largest share of victims was among Georgians. I think he was a believer, especially in the end.
RT: What would be your closing message for our audience?
PI: We are living in a very complicated time of globalization. Russia and Georgia have accumulated a lot of spiritual values over centuries. So we have to ensure we don't lose these values, i.e. our faith, our homeland, and our culture.
I wish peace, prosperity and well-being to all peoples of Russia, and to our [Georgian] people as well. And I wish that the complicated Russia-Georgia relations would improve and never decline again.
I am planning now to visit Moscow, and then Kiev, and Minsk. The Russian Orthodox Church and the entire Orthodox world are celebrating the 1025th anniversary of the Christianization of Russia, and we will be participating in these festivities.
Source: RT