May 31, 2013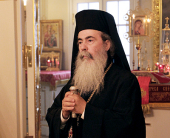 On May 30, 2013, His Beatitude Patriarch Theophilos III of Jerusalem, who was on a peace visit to the Russian Orthodox Church, departed for Jerusalem.
During his visit, the Primate of the Orthodox Church of Jerusalem was accompanied by a delegation consisting of Metropolitan Kyriakos of Nazareth, Archbishop Aristarchos of Constantina, chancellor of the Orthodox Church of Jerusalem, Archbishop Theophylaktos of Jordan, patriarchal commissioner to Bethlehem, Archimandrite Stephanos (Dispirakis), representative of the Patriarch of Jerusalem to the Moscow Patriarchate, Archimandrite Galaktion (Avar), abbot of the monastery in Ramallah, and Archdeacon Athanasios (Themistokleos).
At Pulkovo airport, His Beatitude was seen off by St. Petersburg First Vice-Governor M. Oganesian, Bishop Tikhon of Podolsk, head of the Moscow Patriarchate's financial and economical office, Archimandrite Isidore, head of the Russian Ecclesiastical Mission in Jerusalem, Mr. I. Sudosa, head of the St. Petersburg diocesan protocol department, and Hieromonk Stefan (Igumnov) and Mr. A. Churyakov, DECR staff members.
Source: DECR