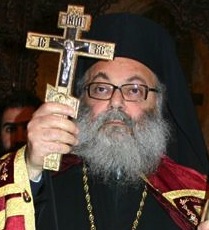 January 2, 2013
The new year celebrations were restricted this year to prayers without exchanging congratulations due to the events taking place in Syria and in honor for the martyrs who offered their souls for the sake of the homeland.
A Divine Liturgy was held on Tuesday at the Mariamite Cathedral for Roman Orthodox in Damascus marking the New Year.
The Liturgy was headed by Patriarch of Antioch and All the East for the Greek Orthodox, John X Yazigi.
His Beatitude said "Let's start a new year with amity and peace …We wish a year of welfare that carries peace, tranquility and grace to the Syrian people."
The Patriarch prayed to God to save the Syrian people and eliminate differences, and protect the Syrians who love peace and life.
His Beatitude pointed to the ties binding the Syrian and Lebanese peoples, adding "Citizenship is what makes everyone equal, and guarantees freedom and wellbeing," saluting on this occasion the people of Palestine, the birthplace of Jesus, and the people of Iraq.
Religious liturgies were held across the country in celebration of the new year. The speeches called for work to spread love and fraternity in the interest of all.
Source: Syria Online