Greek Orthodox leader Youhanna X Yazigi urged the Lebanese on Saturday to resolve their political disputes peacefully and avoid a constitutional vacuum.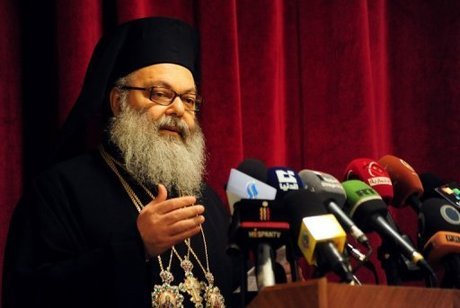 The Patriarch of Antioch and All the East condemned the latest security incidents that are taking civilian lives.
"The latest suicide bombings are a reflection of the rejection of others," he told reporters at Rafik Hariri International Airport before traveling to Russia.
"We reject Tafkiri (thoughts) and the option of killing," Yazigi said.
"Solutions should come peacefully and politically," he said, urging "all the Lebanese to resort to them so that we could overcome the current stage and form a new government."
Such a cabinet, he said, should deal with upcoming events so that "we don't fall in a constitutional vacuum."
The patriarch was referring to the upcoming presidential elections.
Suleiman's six-year term ends in May. But the parliament should start meeting on March 25, the deadline set by the Constitution to agree on a new head of state.
Asked about the kidnapped bishops and nuns in Syria, Yazigi said: "There is nothing new in their case but we hope that the bishops are physically OK."
"As for the nuns, they are doing fine … I have personally contacted them several days ago," he said.
Greek Orthodox Bishop Boulos Yazigi and Syriac Orthodox Bishop Yohanna Ibrahim were seized in Aleppo.
The nuns were also kidnapped by rebels from the Mar Takla convent in Maaloula.
They are being kept in the nearby town of Yabroud.
Source: Naharnet