Moscow, July 4, 2013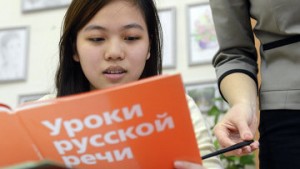 The Patriarchate of Moscow has prepared a manual "Basics of the Russian language and culture" as part of the Church and social project of education of migrants.
The manual had been represented the day before at the meeting of the joint commission of the Russian Church and the Federal Migration Service, reports Interfax.
During the meeting the deputy head of the Federal Migration Service Anatoly Fomenko informed that 60 cooperation agreements between the FMS territorial administrations and Church Dioceses had been signed. 278 Russian language and culture courses for migrants are working in the regions and 93 of them are free.
Archpriest Dimitry Rossokhan, a representative of the Diocese of Pyatigorsk and Cherkessk, shared his experience with the agency, telling that the Russian language courses, arranged by the Diocese, became very popular among representatives of the Afghan diaspora in the Stavropol Territory.
In his turn, the chairman of the Missionary Commission at the Diocesan Council of Moscow Hieromonk Dimitry (Pershin) reported that several reference books had been prepared by the commission for migrants in various languages. He proposed with the purpose of cultural education and adaptation of migrants to make up a list of films that represents the culture and traditions of Russia the most brightly.
Source: Pravoslavie.ru