Minsk, January 20, Interfax – Byelorussian believers, who welcomed the Gifts of the Magi, which arrived from Petersburg to Minsk on January 17, surprised Athos monks accompanying the shrine, organizers of the events connected with shrine stay in Byelorussia told Interfax.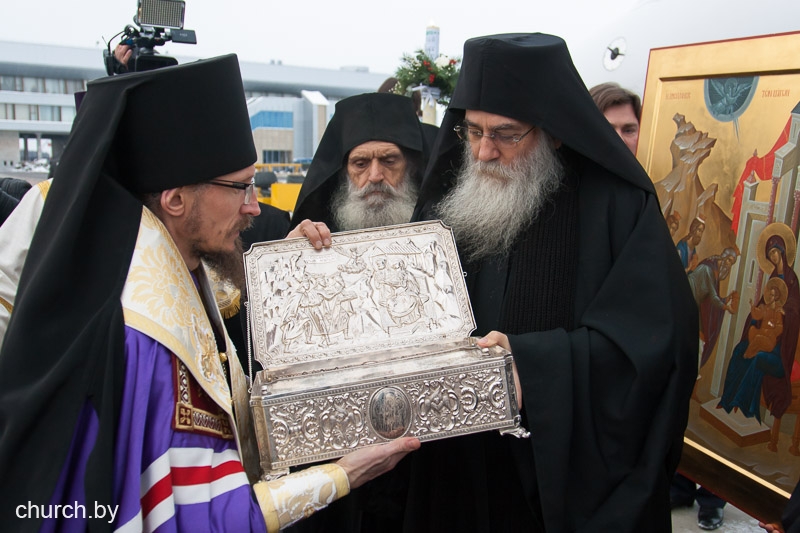 "Nowhere else we have seen such things: people who welcomed us knelt down in the snow, in snowdrifts, in the frost and prayed. Neither in Moscow nor in Petersburg there were such things," said Hierodeacon Panteleimon (Korolyov), a staff member of the organizational committee for bringing the Gifts.
About 1,500 believers welcomed the shrine in the Minsk airport where it arrived from St. Petersburg, and about 10,000 expected its arrival at St. Job Church situated in the House of Mercy.
The Gifts of the Magi will stay in Minsk till January 24, then they will travel to Kiev.
Over 585,000 believers came to venerate the Gifts during nine days of their stay in Russia: about 420,000 in Moscow and 165,000 in St. Petersburg.
The Gifts of the Magi is one of the rare shrines connected with Christ's earthily life, which survived to the present moment. The shrine was brought with Patriarch Kirill's blessing.
The tradition tells that till the fourth century the Gifts of the Magi were kept in Jerusalem and then transported to Constantinople and placed in the St. Sophia Cathedral. Russian pilgrims saw the Gifts there. Archbishop Anthony of Novgorod mentioned the Gifts in his book in 1200. After the fall of Constantinople, the shrine was transferred to Athos where it stayed till the present moment.
Source: Interfax-religion