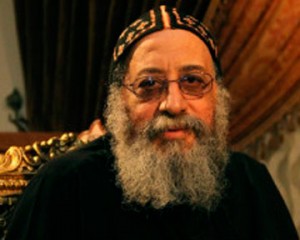 Sunday, November 4, the Coptic Church has chosen a new pope. St. Mark Cathedral in Cairo, Egypt congratulates all the Coptic Orthodox Church for the choosing of Bishop Tawadros as the 118th Coptic Pope, and Patriarch of the Coptic Orthodox Church of Alexandria and All Africa. According to AFP, the 60 year-old new pope is a theologian who favors the pastoral role of the Church rather than political views.
In a beautiful ceremony in St. Mark Cathedral, with prayers and chants ringing out from the congregation that crowed the cathedral, Bishop Tawadros's name was picked by a blindfolded child from a glass bowl containing the names of the candidates to the papacy.
Bishop Tawadros was chosen following the Biblical tradition stated in Acts 1:26: "and they cast lots for them, and the lot fell on Matthias, and he was numbered with the eleven apostles."Bishop Tawadros, whose gifts of communication, good judgment and steadfastness are highly praised, is expected to improve Christian-Muslim relations.
Bishop Tawadros will be officially enthroned as Pope Tawadros II, on November 18. The announcement comes amid increased persecution, kidnappings of women and children, harassment of Christians, imprisonment, and killings that the Church has been suffering since the Muslim Brotherhood has come to power. According to Christian Post Africa, it has become increasingly difficult to get permits to build Churches or to repair old ones.
Lord David Alton, co-founder of the human rights organization Jubilee Campaign told CBN that "the exodus," of the Christian community in Egypt has been unprecedented during the past 12 months. Lord Alton went on to say:
There've been a lot of killings. Churches have been bombed. Christian women have been raped. People's properties have been confiscated –all sorts of things have taken place. It's one of the reasons why a hundred thousand Coptic Christians have fled the country.
There is fear that Sharia law may be implemented in the very near future. Thus, the hope of the Coptic Church in Egypt is that as pope, Bishop Tawadros will work as his predecessor Pope Shenouda III of Alexandria did, to improve the relationship with the Egyptian government. The hope is that the Egyptian government gives Coptic Christians, along with the Christian communities of other denominations, the religious freedom and citizens' rights they deserve.