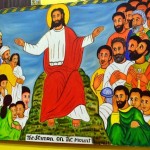 Last night [Dec 7] Bermuda's Ethiopian Orthodox Church opened their doors and invited locals to learn about their traditions and view their intricately painted church icons created by an Ethiopian Monk Priest.
The Debra Ganet Immanuel Cathedral — which means Immanuel Cathedral Of Paradise — is located in St George's and features an interior full of painted icons by Abba Gebre Hiwot Wolde Samuel.
Photo montage of the Church's painted icons:
Samuel was born in a small village in the Temben District of Ethiopia, and started studying to become a Deacon when he was eight years old. He continued his studies, did not speak with family for five years while he studied at a monastery, and was ordained as a Monk Priest when he was 18 years old.
He then studied religious art, and along with his friend Solomon, was contracted to paint religious murals for 11 churches in Ethiopia. He did this for seven years, and was selected to travel to Barbados with six other Ethiopian Orthodox priests to establish churches in the region. He spoke very little English at the time, but learned quickly.
Brief overview with a Church Deacon:
In 1999 Samuel arrived in Bermuda after being asked to paint for the church on the island. He stayed for a while, painting many of the intricate icons pictured below. He then traveled to the United States, where he spent over five years painting Ethiopian Orthodox Churches in a dozen states. Samuel later returned to Bermuda, to both continue his painting and minister to the members.
The Church in Bermuda was elevated to Diocesan Status in 1977 with the consecration of the former garrison chapel on Old Military Road, St. George's as the Debre Ganet Immanuel Cathedral Church. The Bermuda Church belongs to the Archdiocese of Latin America and The Caribbean. They welcome visitors who would view the icons or learn more about their faith, and can be contacted at 297-2085.
Click to enlarge photos: