March 28, 2013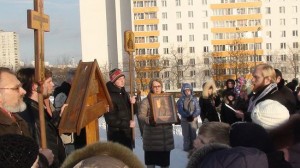 On Krasnodarskaya Street 50 in Moscow, at the Church of Holy Martyr Tatiana of Rome a solemn service was held at the standing Cross which had been desecrated by vandals at night before 26 March.
In a Cross Procession with Icons and Holy Banners in their hands, the faithful headed by the Rector of the Church, Priest John Koval, walked up to the site where the standing Cross had dominated since September 2011.
"That evening we prayed for increase of love and asked for God's blessing for restoration of this Holy Cross," said the Priest. He also added with smile that for day before, he had already received many offers from volunteers who expressed their immediate readiness to begin restoration of the Cross.
Source: Pravoslavie.ru