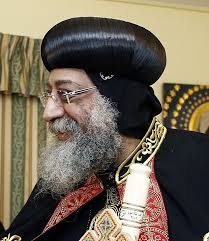 President Adly Mansour Wednesday received Pope Tawadros II of Alexandria and Patriarch of St. Mark Diocese leading a delegation from the Coptic Orthodox Church.
The meeting took place as part of meetings held by the president to discuss political and national issues, Church Spokesman Rev. Boulos Halim said.
Pope Tawadros II was accompanied by a delegation comprising Archbishop of youth in the Coptic Orthodox Church Anba Moussa, Bishop of Tanta Anba Paula, Archbishop Anba Yuanes, Counselor Monsef Soliman and Dr. Suzy Nashed.
Source: State Information Service