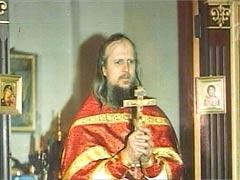 A priest was found dead after a fire that erupted at a local church in the village of Neivo-Shaitansky near Yekaterinburg early on January 7, the day on which Orthodox Christians celebrate Christmas.
The man, born in 1966, is believed to have died a violent death, local police spokesman Valery Gorelykh told Interfax. The village's St. Peter and St. Paul Church, where the priest's body was discovered, was apparently set on fire to hide the crime, he said.
Twenty-one icons, some of which date back to the 18th century, were stolen from the church.
"Four groups of investigators from the regional prosecutor's office, the department for the fight against organized crime, and the Alapayevsk district's interior affairs department and prosecutor's office visited the scene. Thanks to the efforts made by police and the prosecutor's office, the crime was solved hot on the trail," Gorelykh said.
Two local residents with a previous criminal record were detained as suspects in the murder, the spokesman said.
"Evidence proving their involvement in the crime was collected during the preliminary investigation. Some of the stolen icons were confiscated. The remaining icons were found in a hiding place at a local cemetery," he said.
Regional police chief Mikhail Nikitin and the region's senior prosecutor Pavel Kukushkin are overseeing the murder probe, he added.
The priest is survived by his wife and four children.