March 20, 2011
The website
"Orthodox Christianity and the World"
maintains ties with the Orthodox clergy in Japan. Priest Nikolai Dmitriev, a clergyman of the Japanese Orthodox Church, reports from Khakodate (the island of Khokajdo).
Fr. Nikolai serves in the temple of Resurrection of Christ, the first church to be built in Japan. The original church building was constructed by the Equal-to-the-Apostles Nikolai of Japan, the enlightener of Japan. The 150th anniversary of St. Nikolai's sojourn in Japan is being celebrated this year.  
We are experiencing a lack of accurate information.
Khakodate, the city where I serve, is locate three-hundred miles north of Fukusima, so we are in no danger of radiation sickness. The wind continues to blow toward the ocean, so we hope that the radiation will not affect us very much. In general, the situation in our village is more or less peaceful. The people are working, the stores are open. Groceries, electricity, water, and medicine are available. We are, however, suffering from a lack of accurate information. The information we get from the official television stations is not comforting but, on the contrary, quite frustrating. They say that everything is already back to normal, that is all is well. This makes us doubt involuntarily. Is it really so? The government is just trying to insure that there is no panic.
Our compatriots call me many times a day, and they are all very alarmed. I console them, saying that everything is essentially under control. Now we must wait, help and pray so that everything gets back to normal. 
On the day of the catastrophe, we experienced tremors measuring six points. With that kind of tremor it's hard to stand up. My family lives at the church, and we saw the bells swaying. It was disturbing to see that the motion was not vertical, as usual, but horizontal, and it lasted three minutes.
Glory to God, in our temple, which was built one-hundred years ago already, only the iconostasis was cracked; and we can fix this ourselves.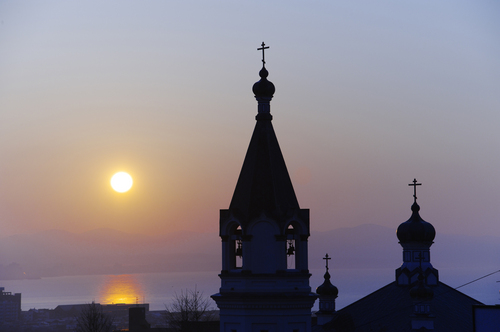 When the tsunami hit, we didn't get a forceful wave; the water level just rose about 40 centimeters, and the coastal area was flooded, over about one kilometer. Unfortunately, there was at that moment a sixty-seven year old man resting on the shore. He didn't even notice what was happening. Regretably, he drowned. No one else in our city died.
Help for the Living and the Dead
This morning I got in touch with Bishop Seraphim. He asked that we send help to the parish in Sendai. We gathered a shipment of groceries, but there was a problem: the postal service wasn't operating. With difficulty we went to a private firm who promised to deliver our load in three days. Everything is very hard in that region. The stores are closed. There are shortages of drinking water and of food. And it's very hard to deliver all of the necessities.
As soon as the government makes a concrete plan for the organization and access to this area, help will arrive in large volumes. Right now these people are in great need of goods. There is not enough in Sendai. 
In all of the churches in Japan, they are now taking up charitable collections to help the afflicted. This necessarily includes financial means for the reconstruction of churches and of church infrastructure, as well as help for the suffering faithful.
In the prefectures of Ibaragi, Miyagi, and in the towns of Yamado, Ishino-Magi, and Morioko, many people have died; but the names have not been released because not everyone has been identified. There aren't any Orthodox among the known dead, but that isn't the point. It's a terrible pity for everyone.
Everyone with whom we can't establish contact has been placed on the list of missing persons. The coastal cities which suffered from the tsunami are lying in rubble. It's a heap of wood, steel and concrete, wherein are people are buried. Rescue workers, including Russians, are now trying to pull them out.
Emergency workers have been brought in from 150 countries. Right now they are practically working twenty-four hour shifts. It has been over a week, so they probably won't find any more survivors. But the slain have a right to be buried properly.
The Situation at the Fukusima Atomic Power Plant: "The site should have been shut down already."
Thank God, the elements are slowly cooling down. The shocks are almost gone. All the powers of Japan are now directed to the cooling of the reactors of the Fukusima atomic plant, and to finding the means to contain the radiation.
Let me clarify: Inside every reactor rod there is radioactive fuel for the atomic plant. If these rods should wind up in the air, then naturally their temperature will rise. They are pouring cold water on them. The problem is that they can't get very close to the atomic plant because of the great risk of radiation. Therefore they have decided to use special fire engines which can shoot water out of canons at a distance of fifty to seventy meters.
In the third block, the roof of a reactor has been destroyed, although the reactor itself was not damaged. Specialists are trying to introduce cold water through this hole.
I can't confirm the report that they are going to build concrete covers to place over the reactors. Only the foreign media is talking about this. There is no information from official Japanese sources.
The notion of using these concrete covers was probably inspired by the situation with the Chernobyl power plant, but here the level of radiation is different. In Chernobyl there was on open reactor, with very powerful radiation coming out. Here only the second-level system was damaged.  The reactor itself has stopped, while spent fuel is located next to the operation room in a specialized pool of water — this is the part that was damaged.
Specialists are now trying to get electricty, to re-establish the electrical power-supply grid. Two unfortunate factors coincided: the earthquake and the tsunami. If only one of these had happened, the power plant would have survived.
It is sad to note that "Fukusima" means "happy island." What a sorrowful irony: on one hand – the beautiful name, on the other – the terrible reality.
This power plant was built forty years ago. According to the rules, these plants are not supposed to remain in use for more than thirty years. It had already been closed, but for some reason the government decided to extend the plant's term of activity.
There are fifty atomic power plants in Japan, and they provide twenty-five percent of the electric power. In the 1970's Japan experienced the so-called "oil shock," the energy crisis. That's when they decided to develop nuclear energy, in spite of the opposition of the people, who hadn't been able to forget the lamentable effects of the bombing of Hiroshima and Nagasaki. But the people yielded to the pressure of the government.
What will happen now? I think there will be a second wave of radiation sickness.
But in general the Japanese are staying put, since they understand the nuances of the situation, while the foreigners don't know the language and in their own language there is no clear explanation of the situation; so they are trying to get out of Japan in a hurry. The families of most of our Russian diplomats have been sent home.
Japan asks for Prayers
As for the churches, there are two bishops and twenty three priests. They are alive and well, fulfilling their pastoral obligations. We are performing the services fervently. In general we've seen quite an increase in church attendance lately. The faithful are praying fervently. We need to pray, and we need others to pray on our behalf.  Therefore we ask you to pray for Japan, so that the Lord might heal our difficulty.
The condolences of the Holy Patriarch Kirill were a much-needed encouragement for us. On the first day of the tragedy, a message of consolation was sent from the Holy Patriarch to our Metropolitan Daniel. It was immediately translated into Japanese and sent on to every parish. This evoked a definite reaction from the Japanese and from our Russian parishioners. A good deed always produces a good feeling. 
We have already become accustomed to this tragedy. Those who suffered but survived rejoice, thanking God. As for those whom the Lord has brought to rest, we will pray for them, that they might be received by the Lord into the heavenly mansions. No one lives forever, but death, of course, is terrible. No one can be reconciled to it, so that it will not come to him. This is our common nature, since man was made by God for eternity, but sin has brought death into our world.
It's hard for a man to answer the question, "Why did this happen?" The Japanese and people in other countries are now asking such questions. Why did this or that happen? But man and God are not equal partners. God made us, gave us life, gave us the world. We should be thankful for this.
And we must not take an attitude of judgement and ask God, "Why did you allow this?" Could it be that some things must remain unanswered? The Lord is our heavenly Father, and we must always relate to Him with love and trust. We must guard ourselves from many dangers, as much as we can. But if danger should visit us, the sufferer must bear it with patience, while the one who remains unharmed must help those who are in need.
We are not subject to the elements. Men made the nuclear power plant, and this business must be conducted more safely. Perhaps the time has come for us to more attentively study the methods of obtaining energy from the wind and the sun, thus at least partially replacing the more dangerous means of energy production. In order to do this, of course, we will have to invest heavily into research — but it might save our lives.
Nuclear energy is a dangerous path. But, unfortunately, it is currently without alternative. Of course we need energy. We don't light our churches and homes with candles. But balance is always needful. Are not Chernobyl and the nuclear disasters in America enough for us?
Pray for us. The only thing that helps the faithful is fervent prayer. God is truly merciful. Fukusima, the "happy island" …  where is this happiness? It glitters, but is not gold. An undiscerning main quickly picks up shiny foil as a thing of worth, but a main of understanding says, "this is garbage." So also is our faith, which gives us a foundation under our feet, even when the very earth is shuddering. If we sincerely believe and live according to faith, then no sort of difficulty can touch us; while if they do occur, we will bear them worthily.
Let us live according to God's will. I heartily request your prayers for our unhappy Japan. May God lighten our suffering through your fervent prayers, may He give rest to those who have died, and may He again send joy and enlightenment to this region.
Translated from Russian by Jeremy Boor