July 25, 2013
On July 24, over seventy people were killed and many injured in the train derailment near Santiago de Compostela in northwestern Spain. His Holiness Patriarch Kirill of Moscow and All Russia sent the following message with condolences and support to the King of Spain:
His Majesty JUAN CARLOS I
King of Spain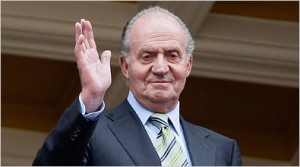 Your Majesty:
It was with a feeling of profound grief that I leant of the train accident near Santiago de Compostela where thousands of people used to come from every corner of Spain for commemoration day of St. James. Many people, including pilgrims, were killed or injured in the accident.
May I express profound condolences on my own behalf and on behalf of the entire Russian Orthodox Church to the families of the victims, to Archbishop Julian Barrio Barrio of Santiago de Compostela, to Mgr Segundo Pérez, dean of the Cathedral, and to all Catholic Church of Spain.
I offer up my prayers to the Lord asking him to rest the souls of the victims and grant courage, patience and his Almighty help to those who suffered or are grieving over their loss.
With love in Christ,
+KIRILL
PATRIARCH OF MOSCOW AND ALL RUSSIA