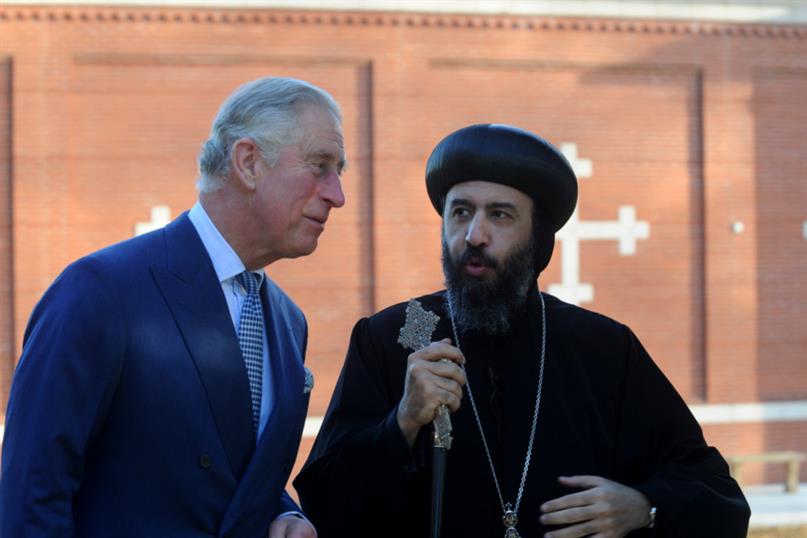 The Prince of Wales visited the Coptic Orthodox Church Centre at Shephalbury Manor, Stevenage with Prince Ghazi bin Muhammad of Jordan.
Prince Charles and Prince Ghazi attended a brief service and met young people who volunteer for the church's homeless ministry.
In a speech he made to churchgoers and officials, he said: "It has been a privelege to come to Stevenage to join you in witnessing a small part of a Coptic Christian service, as well as the strength of its supporters in their dedication to their beliefs.
"What we often see on the news doesn't always cover some of the challenges people face in the Middle East. We have just celebrated the International Day of Human Rights, yet in the Middle East we have some people who do not practice some of the human rights that we see as basic in this country."
On arrival, the two princes were welcomed by The Lord-Lieutenant of Hertfordshire, The Countess of Verulam, The Lord Bishop of London, The Right Reverent and Right Honourable Richard Chartres and the General Bishop of the Coptic Orthodox Church in the United Kingdom, Bishop Angaelos.
The Coptic Orthodox Church has the largest Christian presence in the Middle East, with approximately 15 million members in Egypt, representing about 15 per cent of the population.
Source: Comet 24