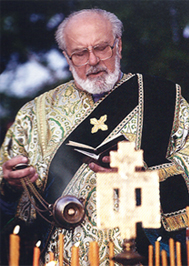 JORDANVILLE, NY: September 18, 2013
On Wednesday, September 18, 2013 , Protodeacon John Onopko, long-time clergyman of Holy Trinity Monastery in Jordanville, NY, reposed in the Lord. He taught Liturgics at Holy Trinity Seminary; many of the current priests and deacons learned the proper practice of divine services from him.
Fr John graduated from Holy Trinity Seminary in Jordanville in 1967, and was ordained to the diaconate more than 30 years ago. Since then, Fr John had served at the monastery, often accompanying Archbishop Laurus, the future First Hierarch of the Russian Orthodox Church Outside of Russia, on his archpastoral journeys, took part in the monastery's divine services, and served as an example of correct liturgical service.
May the pious servant at the Altar of the Lord have peace everlasting in the Kingdom of Heaven!