May 5, 2013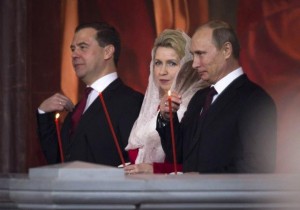 Russian and U.S. Presidents Vladimir Putin and Barack Obama have sent their Easter greetings to all Orthodox believers.
Putin congratulated Orthodox Christians and all Russians celebrating Easter today and wished them good health.
"Easter gives joy and hope to millions of people, and inspires for good deeds and noble aspirations," said Putin who attended the central Easter liturgy at Moscow's Christ the Savior Cathedral last night with Prime Minister Dmitry Medvedev, Itar-Tass has reported.
The Russian president added that "it is important to point to the role of the Russian Orthodox Church in maintaining civil peace and accord in Russia and developing inter-confessional and inter-ethnic dialogue".
"The Church incessantly cares about strengthening high moral and ethical ideals and family traditions in society and upbringing the younger generation. Aside from that, the Church significantly contributes to solving current social issues," Putin noted.
Obama has also congratulated Easter to all Orthodox Christians in the U.S. and worldwide on his own and on behalf of his wife Michelle, Religious Information Agency (VIA) has reported.
The U.S. president sent his best wishes to all Orthodox believers and stressed that "Christ's path of love and hope should be followed".
"It's especially important to remember this year, as members of the Orthodox community have been confronted with persecution and violence, particularly in the Middle East and North Africa. For centuries, the region and the world has been enriched by the contributions of Orthodox communities in countries like Egypt, Lebanon, Syria, and Iraq," Obama said.
"As a nation, we reaffirm our commitment to protecting universal human rights including the freedom of religion," he concluded.
Source: B92