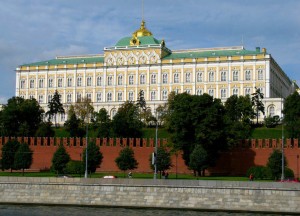 Moscow, July 24, Interfax – President Vladimir Putin on July 25 will meet Patriarch Kirill and representatives of local Orthodox Churches who arrived in Moscow for the celebration of the 1025th anniversary of the Baptism of Rus.
The Kremlin press service reported on Wednesday that the format of the meeting is very unique.
"For the first time the Grand Kremlin Palace will bring together the heads and senior clergymen of all 15 existing Christian Orthodox Churches uniting over 227 million believers – the Church of Jerusalem, Church of Antioch, Church of Ellada, Church of Cyprus, Church of Alexandria, the Georgian Orthodox Church, the Bulgarian Orthodox Church, the Russian Orthodox Church, the Romanian Orthodox Church, the Serbian Orthodox Church, the Albanian Orthodox Church, the Polish Orthodox Church, the Church of Constantinople, the Orthodox Church of Czech Lands and Slovakia and also the Orthodox Church in America," the press release says.
The conversation is expected to focus not only on issues of creed but also on pressing international matters affecting the interests of Christian Orthodox communities in different countries of the world.
Source: Interfax-Religion