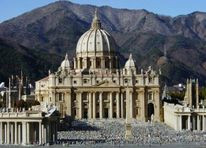 Moscow, November 21, Interfax – Syrian settlement prospects will be an item on the agenda of Russian President Vladimir Putin's meeting with Pope Francis in the Vatican on November 25.
"The issue will be touched upon at the audience with the Pontiff," Russian presidential aide Yury Ushakov said.
Pope Francis sent a message to Putin before the G20 St. Petersburg summit of September 2013 to laud Russia's chairmanship in the Group of Twenty and to oppose the use of force in the settlement of the Syrian conflict.
"The message created a constructive background for the discussion of the Syrian crisis at the St. Petersburg meeting of the G20 leaders. Interesting and rather positive developments occurred later on, in the light of the initiatives put forward by our president," the Kremlin representative observed.
There will be some other topical international issues on the meeting's agenda, Ushakov said. "Special attention will be given to the protection of the Christian population in North Africa and the Middle East," he said.
Russia and the Holy See advocate for the preservation of the priority of international legal and moral fundamentals in interstate communication, the presidential aide continued. "Positions on further coordination of efforts at international organizations – the UN, the Council of Europe and the OSCE – will be compared," Ushakov said.
That would be the third visit of the Russian chief of state to the Vatican after the establishment of full-scale diplomatic relations in December 2009. In the earlier period, Putin met with Pope John Paul II in 2000 and 2003 and with Pope Benedict XVI in 2007.
Source: Interfax-religion